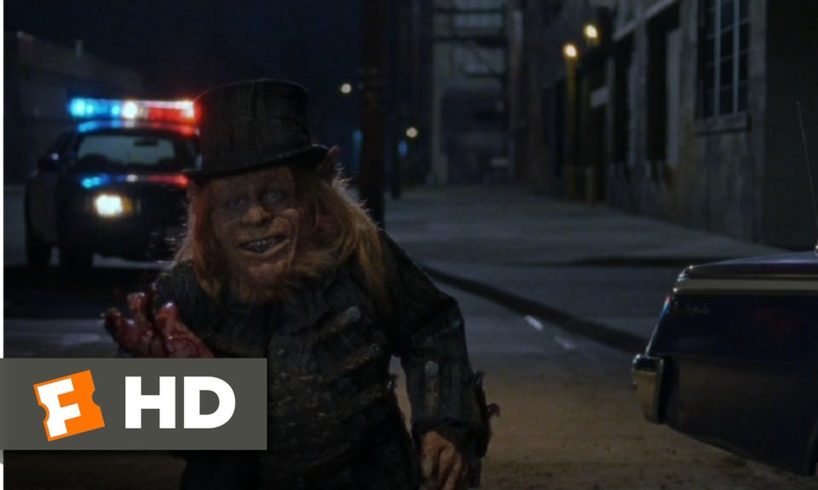 Leprechaun: Back 2 tha Hood movie clips: http://j.mp/1Jc8M3y
BUY THE MOVIE: http://j.mp/JDh9Ha
Don't miss the HOTTEST NEW TRAILERS: http://bit.ly/1u2y6pr
CLIP DESCRIPTION:
Things get bloody when Watson (Shiek Mahmud-Bey) bare knuckle boxes with The Leprechaun (Warwick Davis).
FILM DESCRIPTION:
The sixth movie in the seemingly endless Leprechaun series finds the title character revisiting the territory he menaced in the fifth outing. This time around, a group of inner-city friends go from rags to riches when they stumble upon some treasures. Little do they know that the booty belongs to the terrifying little green man and he wants it back. Decked out in bling-bling and smoking chronically, Leprechaun dispenses with the unsuspecting pals one by one. Warwick Davis once again reprises the title role, which he's assumed throughout the series, and instead of Ice-T, who co-starred in Leprechaun in the Hood, another rapper, Sticky Fingaz of Onyx, is onboard for this blood bath.
CREDITS:
TM & © Lionsgate (2003)
Cast: Laz Alonso, Page Kennedy, Warwick Davis, Tangi Miller, Sticky Fingaz, Shiek Mahmud-Bey
Director: Steven Ayromlooi
Producers: Peter Block, Phyllis Cedar, Mike Upton
Screenwriters: Steven Ayromlooi, Mark Jones
WHO ARE WE?
The MOVIECLIPS channel is the largest collection of licensed movie clips on the web. Here you will find unforgettable moments, scenes and lines from all your favorite films. Made by movie fans, for movie fans.
SUBSCRIBE TO OUR MOVIE CHANNELS:
MOVIECLIPS: http://bit.ly/1u2yaWd
ComingSoon: http://bit.ly/1DVpgtR
Indie & Film Festivals: http://bit.ly/1wbkfYg
Hero Central: http://bit.ly/1AMUZwv
Extras: http://bit.ly/1u431fr
Classic Trailers: http://bit.ly/1u43jDe
Pop-Up Trailers: http://bit.ly/1z7EtZR
Movie News: http://bit.ly/1C3Ncd2
Movie Games: http://bit.ly/1ygDV13
Fandango: http://bit.ly/1Bl79ye
Fandango FrontRunners: http://bit.ly/1CggQfC
HIT US UP:
Facebook: http://on.fb.me/1y8M8ax
Twitter: http://bit.ly/1ghOWmt
Pinterest: http://bit.ly/14wL9De
Tumblr: http://bit.ly/1vUwhH7

source