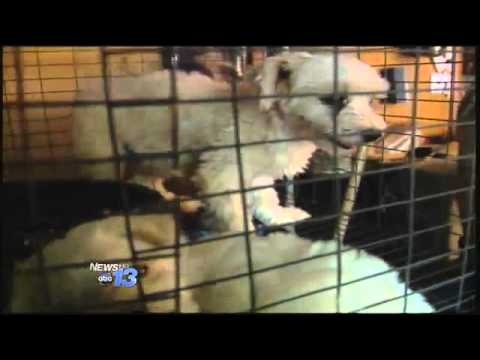 RUTHEFORD COUNTY, N.C. — Nearly 60 animals were rescued Friday afternoon after authorities received a tip of multiple dogs and cats living in "inhumane" conditions in Rutherford County.
A search warrant was executed for property on Doc Wiseman Road owned by Laura Jackson Lancaster, 76. Lancaster surrendered all animals on her property, according to Leon Godlock, Rutherford County Animal Control Director.
Lancaster was arrested for animal abuse in 2002. A district judge ordered her to never breed or sell animals again after sheriff's deputies removed about 100 animals from her home. Godlock says charges are pending against Lancaster until a medical report is completed by a veterinarian, so authorities understand the full extent of the animals' medical condition.
Rutherford County Animal Control received a tip earlier in the week in reference to an animal owner with a large number of dogs and several cats, which were badly matted, not being provided medical care, and living in inhumane conditions.
Animal Control officers went to the residence and discovered over 50 dogs and 6 cats on the property.
Many of the small breed dogs and puppies were living in deplorable conditions and suffering from a multitude of untreated medical conditions, such as matted fur, skin, eye and ear infections and were living in feces and filth.
Volunteers and veterinarians began the task of processing the dogs and cats to be relocated to rescue facilities for medical treatment and examinations.
Anyone interested in adopting any of the rescued animals which were Yorkies, Shitzu, Daschund, Maltese and Persian cats, are advised to contact the Humane Society of Charlotte, Brother Wolf in Asheville, Cashiers Highlands Human Society and Iredell County Animal Shelter.
The HSUS has established a reward program to offer up to $5,000 to anyone who provides information leading to the arrest and conviction of a puppy mill operator for animal cruelty. Persons wishing to report a valid tip are encouraged to call 1-877-MILL-TIP or submit a tip form.
These persons will remain anonymous.
The Rutherford County Sheriff's Office Animal Control Division, with the assistance of the Humane Society of the United States, Human Society of Charlotte, Brother Wolf, Cashiers Highlands Human Society and Iredell County Animal Shelter helped with the rescue.

source