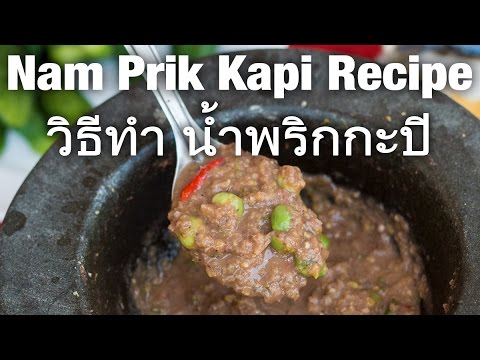 Full nam prik kapi recipe (วิธีทำ น้ำพริกกะปิ), click here ► http://www.eatingthaifood.com/2015/02/thai-nam-prik-kapi-recipe/
Nam pirk kapi (which is also sometimes spelled nam phrik kaphi in English), is one of the most widely available and popular to eat garnishes or condiment chili sauce dips in Thailand. In Thai, nam prik (น้ำพริก) means chili sauce, while kapi (กะปิ) is the Thai word for fermented shrimp paste. The combination of the two is fermented shrimp paste chili sauce, and the recipe includes a combination of fermented shrimp paste, lots of fresh chilies, raw garlic, a bunch of fresh lime juice, and finally a tiny bit of sugar to balance all the flavors.
I've been a huge lover of Thai nam prik kapi (น้ำพริกกะปิ) for all the time I've spent in Thailand, and I've made a couple videos eating nam prik kapi, but had never made the recipe, so I'm really excited to now share the recipe so you can make it at home. Nam prik kapi (น้ำพริกกะปิ) is really not difficult to make, it's just important to have a good quality shrimp paste, which will give the chili paste its best flavor and fragrance.
Ok, here are all the ingredients you'll need for this nam prik kapi recipe (วิธีทำ น้ำพริกกะปิ):
2 tbsp shrimp paste, preferable mature
30 – 60 Thai bird's eye chilies
1 full head garlic
3 shallots
20 Turkey berry (it's also called pea eggplant)
½ – 1 tbsp palm sugar, depending on how sweet you like it, I normally just add about ½
3 – 5 tbsp lime juice, start with less and keep stirring adding more until it's perfectly balanced
Any type of vegetables, both raw and blanched that you like, or fish, and rice, to eat with your nam prik kapi.
For the first step in making nam prik kapi (น้ำพริกกะปิ), I took my Thai shrimp paste, and I lightly roasted it over hot charcoal. This is not really to cook the shrimp paste (you don't need to cook it), it's merely to bring out the fragrance, and to give it a slightly roasted / burnt taste. So if you don't have access to a grill, you can skip this step, but if you do, it's best. Next, just peel and dice the garlic and shallots. Although you could probably make nam prik kapi in a blender or food processor, it will be best if you have a hand mortar and pestle, because you'll get the real taste of this Thai chili sauce, and be able to really work the ingredients until all the oils come out. Using a mortar and pestle, first pound the chilis, garlic, and shallots. I probably pounded for about 15 minutes, until a semi-fine paste. It doesn't need to be too fine or smooth, you're mostly just looking to grind all the big chunks and to release all the flavor potential from all the ingredients. Then toss in a few Turkey berries (this is optional), and give them a quick smash.
Once you have a nice paste of garlic, chillies, and shallots, toss in your shrimp paste and palm sugar, and begin to slowly pound and mix all the ingredients together. You could transfer everything to a bowl, but I like to just mix up all the nam prik kapi (น้ำพริกกะปิ) inside the mortar. The final step to this nam prik kapi recipe (วิธีทำ น้ำพริกกะปิ) is adding the lime juice. Mix all the ingredients together thoroughly, then you must taste test – it's extremely important. Thai shrimp paste chili sauce should be spicy, salty, sour, and with just a hint of sweetness to cut the edge of all the harsh ingredients. Once you have the perfect balance, your Thai nam prik is ready to be served.
Depending on what vegetables you have, you can either serve them raw, or just lightly blanch them. In Thailand most of the time the vegetables are boiled and served with a variety of dipping chilies sauces, and you have a choice of probably 10 – 20 different vegetables. You can use any vegetable you like, but I happen to have some okra and bitter melon on hand. I'm also a huge fan of eating nam prik kapi with short mackerel fish, which I grilled. And finally, you've got to have a plate of rice to make this meal complete.
Music in this video courtesy of Audio Network
Read this full recipe for nam prik kapi (including lots of photos) here: http://www.eatingthaifood.com/2015/02/thai-nam-prik-kapi-recipe/
This video was made by Mark Wiens and Ying Wiens in Thailand: http://migrationology.com/blog & http://www.eatingthaifood.com/
►More authentic Thai recipes: http://www.eatingthaifood.com/thai-recipes/
►Eating Thai Food Guide: http://www.eatingthaifood.com/eating-thai-food-guide/
► Get our free food video updates: http://migrationology.com/food-news

source