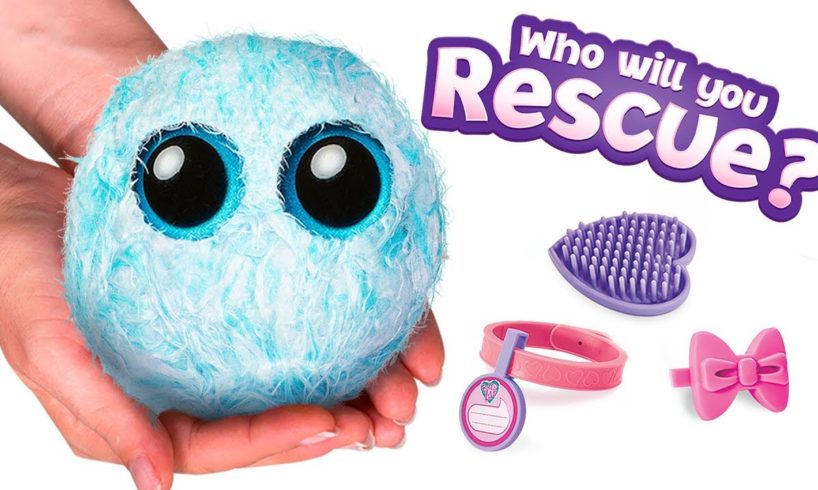 Walking in a park, Sue finds something quite unusual – a dirty fluffy ball with large eyes that clearly needs some care and loving! She washes it and brushes it and it turns into an adorable plush toy! Which animal does she get? Watch the video to find out! Oh, and it looks like Sam needs some love and care as well. He thinks that Sue doesn't love him anymore. Can you imagine that? Let's hope everything is resolved peacefully.
The toy Sue finds is called Scruff-A-Luvs. These unloved and abandoned pets need your help! When you get one, they arrive as a sad ball of matted fur, but once you bathe them, dry them, brush them and love them, you will discover what kind of pet they really are!
Who will you rescue? A Puppy, a Kitten or a Bunny? They are all adorable and fun to play with!
Just like real pets, Scruff-a-Luvs love to be washed and groomed. The more time you spend caring for them, the cuter they become.
Each set includes:
a toy
a grooming brush
a collar with a name tag
an adoption certificate.
Make the world brighter with one happier plush animal!
If you like animals, maybe you'd like to see videos about:
Adorable pug: https://youtu.be/0r8Z4nhactM
Baby quails: https://youtu.be/s1T64yPXLco
Giant Snail: https://youtu.be/OgfvxG2wkH0
Cute Rat: https://youtu.be/Zg-Cau4_H9Q
This video has English subtitles for your convenience!
Check out Slime Sam's Community Tab and see his best pictures, funny GIFs, new episode announcements and much more! https://www.youtube.com/channel/UCw5VDXH8up3pKUppIvcstNQ/community
Subscribe to Sam's channel and give a thumbs up to motivate him to make more videos for you! https://goo.gl/zarVZo
#SaveAScruff
– – –
Stock materials:
https://www.depositphotos.com
– – –
Music by Epidemic Sound: https://www.epidemicsound.com/
OPENING THEME is licensed under MUSIC STANDARD LICENSE:
Title: Cuckoo
Source: https://audiojungle.net/item/cuckoo/20801073

source