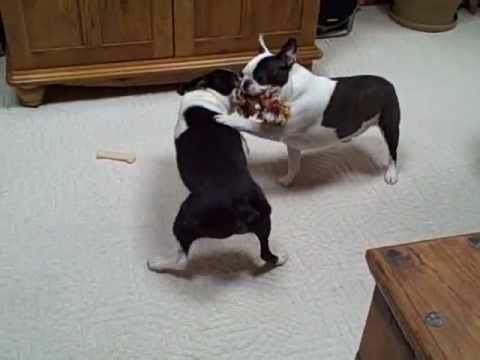 Here's our Boston Terriers playing like the amusing silly little puppies that they are. They like to chase each other when one has a toy, then they switch. They do figure 8's around the furniture, run in circles & have fun! Copyright 2011 ~ RockinRobinzo – I own full worldwide ownership rights to this video.
All rights reserved. Not to be used or duplicated without permission. Embedding enabled for sharing to give me proper credit. RockinRobinzo2011
Check out our viral video of our Boston Terrier, Mackie!
Boston Terrier dog likes his belly tickled! Funny face ~ CUTE!

PLEASE SUBSCRIBE! =)
MACKIE'S WEBSITE ~ http://www.mackiethedog.com
MACKIE'S FACEBOOK ~ http://www.facebook.com/pages/Mackie-The-Dog/163884043676764
TWITTER ~ https://twitter.com/#!/mackiethedog
MACKIE'S ORIGINAL BELLY TICKLE VIDEO ~ http://www.youtube.com/watch?v=OgrZ5Dtsi-E

source