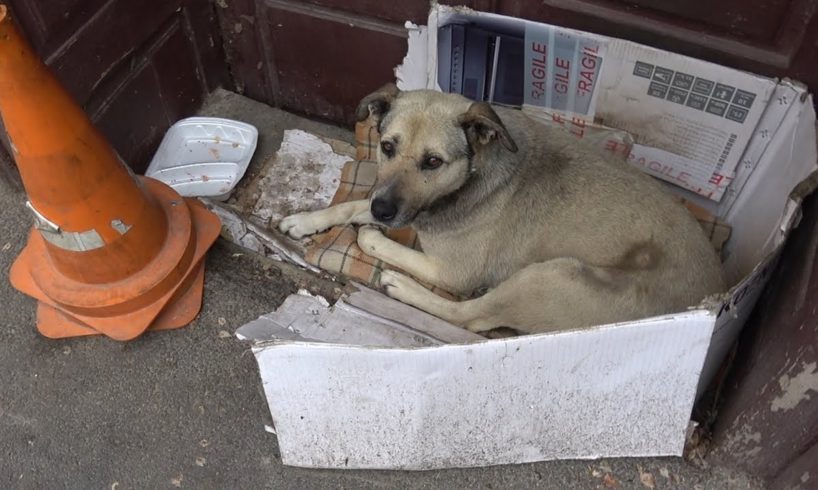 Homeless dog who spent all her life on the streets gets rescued by Howl Of A Dog. A foreign tourist who was visiting Romania and who was following our Howl Of A Dog YouTube channel, contacted us about a stray dog she kept seeing on the street during her stay in a small resort town. When we got there, the locals told us that the dog has been living in that neighborhood for years, and everybody there seemed to know her. Helen, as we later named her, was one of the lucky strays, accepted by the locals as "the neighborhood dog", she had a relatively safe place and received food scraps from passers-by. But life on the street is rough, especially for older dogs like Helen who need to face the cold winter, rains and storms, deprived of any medical care and always in danger of getting hit by cars or harmed by not so animal friendly people.
It's hard to find the right words to describe Helen, she is absolutely an amazing dog: so calm and friendly with everyone and extremely well mannered. A wonderful, pleasant temperament. It's really sad that a dog like her had to live on the streets, alone, for so many years. And the resort town is also visited by thousands of tourists…Yet nobody seemed to have noticed Helen, until now, when this very kind lady from Finland spotted her and contacted us.
The plastic tag from Helen's ear is part of a neuter-release program that took place until 2013, meaning that Helen was captured as a stray during that period, got spayed and then released back on the street. So she's been out there alone for at least 6 years.
Helen needs now an adoptive family, the loving home she's never had. She is in our care in Romania, but can also be adopted internationally to the US, Canada and Europe. For more details about her and the adoption procedure please visit: https://www.howlofadog.org/helen/
Many thanks!
To help us save more animals please visit: https://www.howlofadog.org/make-a-don…
Website: https://www.howlofadog.org/
Donate: https://www.howlofadog.org/make-a-don…
Email: contact@howlofadog.org
Facebook: https://www.facebook.com/HowlOfADog
Twitter: https://twitter.com/HowlOfADog
Instagram: https://www.instagram.com/howlofadog
#HowlOfADog #DogRescue #AnimalRescue
—————-
Howl Of A Dog is a small nonprofit animal rescue organization located in Romania. Our commitment is to rescue abandoned, neglected and abused dogs from the streets or from overcrowded public shelters and to find them suitable loving forever homes.
HOWL OF A DOG organization
Registration Number 33570458

source