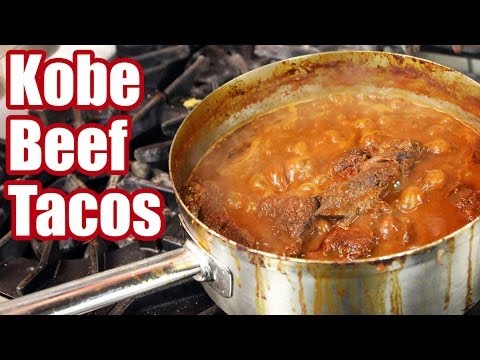 When I was in Phoenix, I had the chance to try some wonderful birria Kobe beef tacos. Get the details here: http://wp.me/psd9b-4tr
I have a friend that is a chef at the Renaissance Downtown Hotel, in Phoenix, Arizona. So when I was back there for a visit, he invited us over to his hotel for some food. After walking around the pleasant Renaissance Hotel in downtown Phoenix for a few minutes, we then took a stroll through the kitchen, and saw everything that was going on – the trophy of the dish that was sitting on the stove bubbling away, was a specialty pot of a Mexican dish known as birria.
Now most of the time, when I used to go to university, we would go to all kinds of Mexican restaurants that were quite hole in the wall places, so eating at this hotel was quite a rare treat.
Since my friend had been making the Kobe beef birria stew all morning, it was already when we arrived, and we were ready to eat. It was pretty cool to see him dish up all the food, and put some of that Kobe beef, as well as some Carnitas into freshly heated tortillas.
The Kobe beef was simmered for quite a few hours and delicious mixture of dry roasted peppers, onions, garlic, and of course that high-quality cut of beef. Slow boiling for many hours, the birria infused the beef with all sorts of amazing, and it cooked until the beef was fall apart tender.
The Kobe beef tacos were absolutely amazing, the beef just fell apart and juices squirted out when I took my first bite. The little bit of tacos, also provided a nice little crunch and a fresh crispness.
The pork carnitas, were equally as delicious, the meat was a little bit fatty year, and it was also full flavor.
It's rare for me to sit down and eat a meal at a place like the Renaissance Hotel in Phoenix, Arizona, so thank you to my friend chef Bernardo, for inviting me over and cooking some awesome Mexican food!
Thank you to my buddies Bernardo and Carlos!
Music in this video courtesy of Audio Network
Get my FREE street food guide: http://wp.me/Psd9b-4pl
Follow my adventures on http://migrationology.com/blog & http://www.eatingthaifood.com/blog/
Bangkok 101 Guide: http://migrationology.com/ebook-101-things-to-do-in-bangkok/
Thai Food Guide: http://www.eatingthaifood.com/eating-thai-food-guide/
Thank you so much for watching this food and travel video by Mark Wiens. Don't forget to subscribe so you don't miss my next tasty adventure. You can subscribe right here: http://www.youtube.com/subscription_center?add_user=migrationology

source