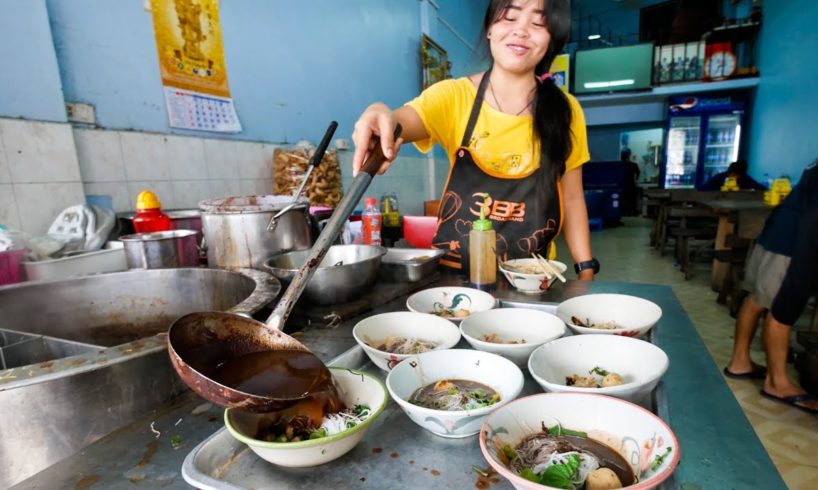 Join Mike Chen and I as we discover 5 Thai food noodle dishes!
►Check out Mike's channel: https://www.youtube.com/user/strictlydumpling
►Subscribe to my channel for more videos: http://bit.ly/MarkWiensSubscribe
Mike and I decided to go on a Thai street food noodles tour, where we tried 5 different types of Thai street food noodle dishes in one day. Mike was in Bangkok visiting from New York, and we got along very well – both of us are food lovers, and both of us are a little obsessed with spice.
Here are the restaurants where we ate in the Thai street food noodle tour of Bangkok.
1. Wattana Panich (วัฒนาพานิช) – This place is legendary for serving braised beef noodles, and most importantly for their giant everlasting cauldron of simmering meat that never stops. Their classic bowl of beef noodles is a little expensive due to the area and fame, but it's so good. If you're more adventurous you can also try their Soup Number 5, and the goat soup which is outstanding.
Kuay teow neua tukyang (ก๋วยเตี๋ยวเนื้อทุกอย่าง beef noodles with everything)
Soup number 5 (ตัวเดียวอันเดียวแพะ bull penis soup)
Sup peh (ซุปแพะ braised goat soup)
Total price – 765 THB ($22.01)
2. Nay Lao Radna Yodpak (นายเหลา ราดหน้ายอดผัก) – At this little restaurant you'll find one of the best versions of Thai pad see ew in all of Bangkok. It's smoky, full of flavor, and the egg makes it incredible.
Pad see ew sen yai (ผัดซีอิ๊วเส้นใหญ่)
Pad see ew sen mee paem kai jeow (ผัดซีอิ๊วเส้นหมี่เพิ่มไข่เจียว)
Sen yai radna (เส้นใหญ่ราดหน้า)
5 bowls of noodles – 275 THB ($7.91)
3. Kuay Teow Reua Khon Mee Sen (ก๋วยเตี๋ยวเรือคนมีเส้น) – Boat noodles are probably one of the most locally popular Thai street food noodle of choice in Bangkok. We went to a place that's a little far out, but it was pretty good. There are also many places to eat boat noodles within Bangkok.
Kuay teow reua nam tok moo (ก๋วยเตี๋ยวเรือน้ำตกหมู)
แคปหมู
Price – 10 THB ($0.29) per bowl
4. Uan Bamee Giew Guangdong (อ้วน บะหมี่เกี๊ยว (กวางตุ้ง) – For years now, this has been one of my personal favorite Thai street food stalls in Bangkok for Thai Chinese egg noodles.
Bamee giew moo daeng haeng (บะหมี่เกี๊ยวหมูแดงแห้ง)
Price – 40 THB ($1.15) per bowl
5. Pad Thai Je Tim (ผัดไทยเจ๊ติ๋ม) – To be honest, we sort of just ran out of time, and needed to take the baby home to sleep, so we weren't able to eat a better version of Pad Thai. This place was pretty average, but it finished off our 5 Thai noodles tour of Bangkok. For a better Pad Thai, I'd recommend: https://www.youtube.com/watch?v=oOaw7rVV0AA
Pad Thai goong sod (ผัดไทยกุ้งสด)
Pad Thai haw kai (ผัดไทยห่อไข่)
Total price – 95 THB ($2.73)
Thank you for watching, hope you enjoyed this Thai street food noodles tour of Bangkok!
—
Camera gear I use:
Main camera: http://amzn.to/2dEL3hv
Main lens: http://amzn.to/2e5Lum6
2nd camera: http://amzn.to/2mczuDx
2nd lens: http://amzn.to/2mcEGau
Microphone: http://amzn.to/2dEr9Z9
Gorillapod: http://amzn.to/2epFsQx
*These are Amazon affiliate links
I would love to connect with you!
Instagram: https://instagram.com/migrationology
Facebook: https://www.facebook.com/migrationology
T-shirts available now: https://migrationology.com/store/
—
►Check out Mike's channel: https://www.youtube.com/user/strictlydumpling
►Subscribe to my channel for more videos: http://bit.ly/MarkWiensSubscribe

source