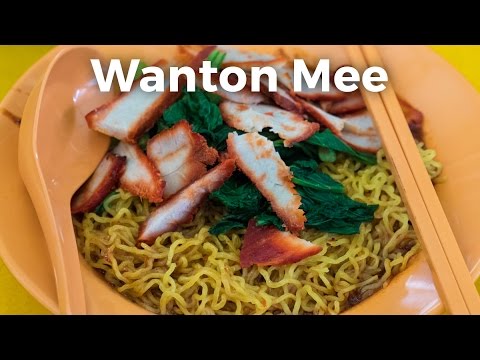 ►SINGAPORE FOOD GUIDE: http://migrationology.com/2016/01/singapore-food/
►SINGAPORE TRAVEL GUIDE: http://migrationology.com/travel-guides/singapore/
In this video I met up with Lucas and his family, who invited Ying and I to their favorite family wanton mee hawker stall in Singapore. We headed over to Tanglin Halt Food Centre, which is one of the oldest hawker areas of Singapore, and we ordered our noodles from Guangzhou Mian Shi Wanton Noodle, a family run shop.
The noodles were slightly chewy, and complemented with an excellent sambal chili sauce, that was not only spicy, but extremely fragrant as well. The noodles along with the wanton dumplings and some small pieces of choy sum, made for a wonderful wanton mee meal in Singapore.
Guangzhou Mian Shi Wanton Noodle
Address: Tanglin Halt Food Centre. 48A Tanglin Halt Road, Stall 01-04
Open hours: 5:30 pm – 3 am from Tuesday to Saturday (closed on Sunday and Monday)
Prices: $3 SGD
How to get there: It's just a short walk from Commonwealth MRT station
—
MY WEBSITES:
Singapore Travel Guide: http://migrationology.com/travel-guides/singapore/
Singapore Food Guide: http://migrationology.com/2016/01/singapore-food/
T-shirts available now: https://migrationology.com/store/
Resources I use: http://migrationology.com/travel-resources/
Migrationology.com: http://migrationology.com/
EatingThaiFood.com: http://eatingthaifood.com/
TravelByYing.com: http://travelbyying.com/
SOCIAL MEDIA:
Instagram: https://instagram.com/migrationology
Facebook: https://www.facebook.com/migrationology
Snapchat: @migrationology
Thank you very much for watching this video!
—

source