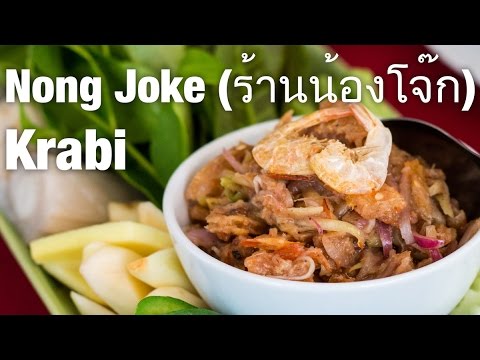 Get more photos and details about Nong Joke (ร้านน้องโจ๊ก) on my blog: http://www.eatingthaifood.com/2015/09/nong-joke-best-restaurants-in-krabi/
Every since I went to Krabi for the first time Nong Joke (ร้านน้องโจ๊ก), has been one of my favorite restaurants. Ying, my wife, is originally from Krabi, and she's the first one who introduced me to this restaurant during my first visit to Krabi with her back years ago. She said it was one of her long standing favorite restaurant to eat at when she was back home visiting Krabi.
Nong Joke (ร้านน้องโจ๊ก) was originally a small street food stall at a market in Krabi, but as they grew in popularity and became more well known throughout the small town, they eventually were able to buy a place and move to a permanent restaurant location. Now, the restaurant is run and managed by the son of the original owner, who is doing an excellent job at preserving the original flavors of southern Thai food in Krabi. If you're looking for one of the best restaurants in Krabi that serves authentic southern Thai food, this is the place.
We started our meal in this video with khua kling moo (คั่วกลิ้งหมู), a southern Thai dry curry. This is one of the most complex versions of the dish that I've ever had, filled with all sorts of herbs and spices. The flavor was incredible. We then tried a dish called gaeng som pla krapong yawd ma prao (แกงส้มปลากะพงยอดมะพร้าว), one of the signature dishes at the restaurant, a dish of southern Thai yellow sour curry with fish and coconut shoots. It had incredible flavor, and was rich and thick from the spices, chilies, and turmeric.
P'Joke, the owner of the restaurant, and a friend of Ying, recommended we try the pla insee tod see ew (ปลาอินทรีทอดซีอิ๊ว), a piece of king mackerel deep fried and coated in a mixture of soy sauce seasoning. The fish was incredibly delicious. It was crispy on the edges, moist and tender on the outside, and the sauce was perfectly salty and fragrant. On this day I also had goong pad kapi sataw (กุ้งผัดกะปิสะตอ), fresh meaty shrimp stir fried with shrimp paste and also some tamarind sauce in the recipe. Finally we tried the nam prik goong siab (น้ำพริกกุ้งเสียบ), a popular southern Thai chili sauce made with dry shrimp.
This is just one of the many meals Ying and I have eaten at Nong Joke (ร้านน้องโจ๊ก) in Krabi, and just about everything we've tried has been excellent.
If you visit Krabi, this is one of the restaurants you have to try.
=========================================
Read all about Nong Joke Restaurant in Krabi here: http://www.eatingthaifood.com/2015/09/nong-joke-best-restaurants-in-krabi/
►SNAPCHAT: migrationology
►Facebook: https://www.facebook.com/migrationology
►Instagram: https://instagram.com/migrationology
►Premium Thai Food Guides: http://www.eatingthaifood.com/guides/
►Make a donation: http://migrationology.com/donate/
Thank you for watching!

source