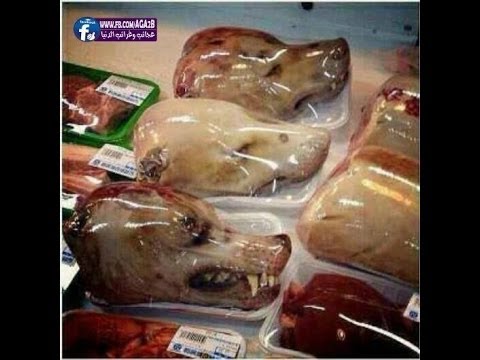 Putting a live dog, or any animal, in boiling water, or a hot oven, or using a blow torch on cats, is not only blatantly wrong, without further explanation—but if one is necessary it is TORTURE.
The 'reason' that is given for cooking animals alive is that they simply "taste better" after their bodies are adrenaline-soaked with fear and pain. 'Taste' is never an excuse for unspeakable cruelty, nor is 'culture' an excuse.
China is making so many strides to become a first world country, but with all due respect, with this kind of accepted culinary method, China AND Korea will be looked upon as backward nations by the rest of the civilized world (one foot in the 21st century and one foot in a primitive age).
Any animal placed in boiling water or cooked, while still alive, in any manner is obviously terrified, in unimaginable pain, despair and doomed to a slow and lingering death.
Animals in the food chain should, at the very least, be given the most humane death possible.
Deepest apologies to the supporters of this petition for this gruesome and offensive photograph — but their story must be told and the horror is beyond mere words — this needs to be exposed and make people aware so they will not visit these countries and give them tourist dollars. China's department of tourism is advertising a lot on TV to attract tourists lately — we can also write to the National Tourism Department of the People's Republic of China and tell them why we are not visiting. This over-the-top torture of animals must be outlawed! If it is hard for us to look upon it, imagine how hard it is for the thousands of dogs, cats, and other species to endure this dark side of man. Life is certainly not a gift for every living being.
http://www.change.org/petitions/stop-cooking-live-animals
Torbjörn Lundqvist- tobbe.lundqvist.journalist@hotmail.se
Publicerad: 2013-11-28 01:28 ©2013
________________________________________
http://www.expressen.se/nyheter/fyrbarnspappan-hon-kan-aka-med-mig/
https://www.facebook.com/events/227625614072510/?context=create&ref_dashboard_filter=upcoming
Channel 13 in Värmland
Copyright © 2010 Channel 13 in Värmland
All information on Channel 13 in Värmland is protected by copyright. Media has the right to copy and share my story.
_________________________________________
Camera Guard – Channel 13 in Värmland
length of training
Journalist length of training varies from one to three years depending on where you are taking their education. It is available both as vocational training at a folk high school or vocational college and university education. The latter is at 180 points which is the same as three years.
Please subscribe to our channel to be notified when we upload any new videos or compilation about:
– Abnormal and paranormal facts
– Strange Creatures
– Awesome people
– Most shocking videos in the world
– Amazing real videos
– Rare and remarkable videos
– Poltergeist activity
– Haunted houses
– Real ghost caught on tape
– Best Scary Ghost Videos
– Alien and extraterrestrial life in the Universe
– UFO Sightings 2012
– Weird and Strange Creatures
– News general
Torbjörn Lundqvist
HOME:
http://www.kanal13youtube.n.nu/kontakta

source