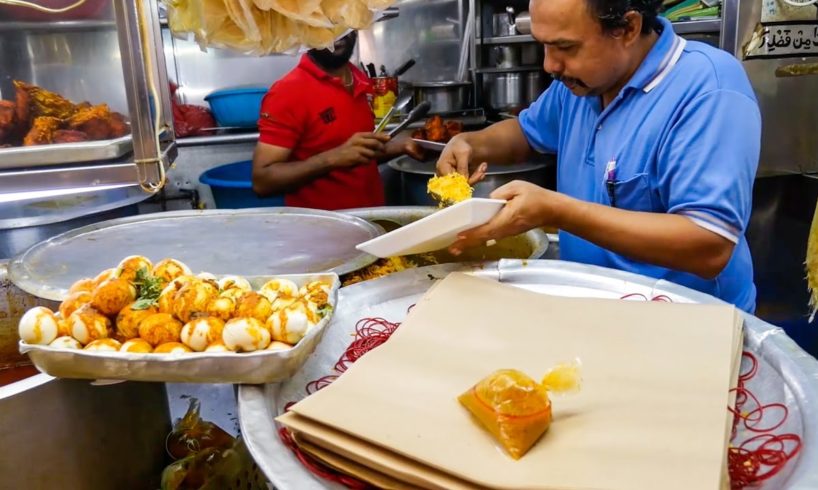 Allauddin's Chicken Briyani in Singapore is fragrant and delicious!
►SINGAPORE FOOD GUIDE: http://migrationology.com/2016/01/singapore-food/
►SINGAPORE TRAVEL GUIDE: http://migrationology.com/travel-guides/singapore/
If you're looking for excellent Indian hawker food in Singapore, one of the best places to go is Tekka Centre, located in Little India. You'll find a tempting variety of different Indian food stalls to choose from, many of them serving south Indian dishes. You can get paratha, banana leaf rice and curry, and what I chose to eat was chicken biryani from a famous stall called Allauddin's.
But before beginning with my chicken biryani, I first had an onion paratha, a greasy and crispy pieces of fried bread filled with onions and served with a side of curry sauce. It was pretty good. But nothing compared to my plate of chicken biryani. The rice was fluffy and fragrant, and not too dry, but had some nice moisture to it. The chicken was incredible – it was soft, yet not mushy at all, but remained a fantastic silky texture. Finally, the curry sauce that my plate of biryani was served with is what really elevated the plate to the next level.
For a wonderful plate of chicken biryani in Singapore, head over to Allauddin's Chicken Biryani at Tekka Centre.
—
MY WEBSITES:
Singapore Travel Guide: http://migrationology.com/travel-guides/singapore/
Singapore Food Guide: http://migrationology.com/2016/01/singapore-food/
T-shirts available now: https://migrationology.com/store/
Resources I use: http://migrationology.com/travel-resources/
Migrationology.com: http://migrationology.com/
EatingThaiFood.com: http://eatingthaifood.com/
TravelByYing.com: http://travelbyying.com/
SOCIAL MEDIA:
Instagram: https://instagram.com/migrationology
Facebook: https://www.facebook.com/migrationology
Snapchat: @migrationology
Thank you very much for watching this video!
—

source