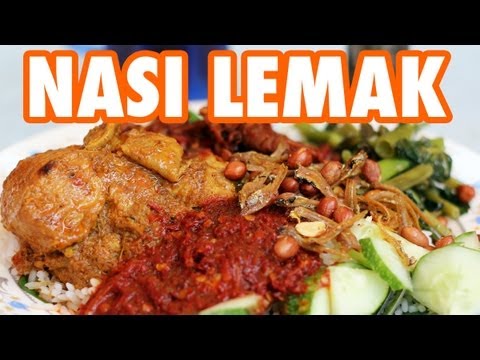 Visit my site http://migrationology.com/ for more delicious food! Click the "link" above!
Nasi lemak is more than just the national food of Malaysia, it's a home comforting dish that the entire country is passionate about eating. Love for nasi lemak is nothing short of extreme affection, a purely delicious bonding form of cuisine.
But what is nasi lemak? In Malays, it translates exactly to "fatty rice," but in reality the rice is steamed along with coconut milk and pandan leaves so it becomes fragrant and slightly creamy. It's not ordinary rice, it's pumped with extra flavor. Grains of the rice shouldn't be clumpy, but rather loose, not overly wet, but just perfect.
After rice is piled onto a plate, a choice of different other heavenly toppings are added to the top and the plate of nasi lemak is ready to be enjoyed.
Kuala Lumpur has a lot of food to chose from, and one of the best street restaurants in town is known as RA Nasi Lemak – a home style restaurant that caters to a local crowd searching for comforting cuisine.
I showed up at about 9 am to get a taste, and there were a few people in line and many people were eating at the tables provided. Unlike other nasi lemak restaurants where the vendors serves you, at RA you are free to top your fatty rice with whatever you choose using self service.
I scooped on some fried morning glory vegetables, some sambal sotong (squid in chili sauce), ikan bilis (peanuts mixed with anchovies), lots of sambal chili sauce and a big chunk of pure heaven chicken rendang (chicken curried in coconut milk).
I've had a lot of good Malaysian food meals in my life, but I'm telling you that this plate of nasi lemak was easily one of the most satisfying meals I've ever consumed in my entire life.
The chicken rendan was cooked to perfect, stewed in coconut milk and pureed spices that coated each bite in magnificent flavor. The squid in chili was equally delicious, not too chewy and bursting with flavor. Also, the sambal chili sauce, was perfect. It was spicy, not sweet, and went so well with all the other dishes.
The combination of the rice and the toppings elevated my mouth into new highs of culinary satisfaction.
Next time you're in Kuala Lumpur, be sure to check out RA Nasi Lemak.
Music used in this video:
Song Title: Mandeville
Author: Kevin MacLeod
Direct Link: http://incompetech.com/music/royalty-free/?genre=Reggae
Download Link: http://music.incompetech.com/royaltyfree2/Mandeville.mp3
License: http://incompetech.com/m/c/royalty-free/licenses/
Follow my food adventures:
Facebook: https://www.facebook.com/migrationology
Website: http://migrationology.com/ & http://www.eatingthaifood.com/
And DON'T forget to subscribe to my videos so you don't miss the next tasty adventure: http://www.youtube.com/subscription_center?add_user=migrationology
See you again and thanks for watching!

source