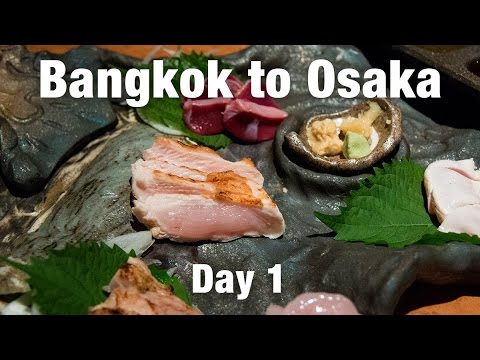 ► Check out our blogs: Mark: http://migrationology.com/ Dwight: http://bkkfatty.com/
0:22 Meal at home in Bangkok – To begin this Osaka, Japan food video series, I started off at home in Bangkok and had a delicious lunch. My mother in law and wife cooked a roasted fish, and Thai seafood sauce to go with it. I also enjoyed a plate of Thai eggplant salad. The fish was incredibly juicy, cooked to perfection and paired with the sour garlicky chili sauce, it was delicious.
5:28 Trip from Bangkok to Osaka, Japan – We took an Uber X to Bangkok's Don Muaeng Airport, where we caught our flight with Air Asia X with a direct flight from Bangkok to Osaka. The flight took about 5.5 hours, and it was actually quite a good flight. The airplane was nice and new and very comfortable. We arrived to Osaka's Kansai International Airport. From there, you could either take the train to Namba station area in Tokyo, but since we were heading to Umeda, we decided to take bus #5. The bus ride from Kansai International Airport to Umeda station in Osaka took about 45 minutes and we arrived to the New Hankyu Hotel where the bus dropped us off.
9:00 Chicken Sashimi (first meal in Osaka) – After meeting up with Dwight (http://bkkfatty.com/ @bkkfatty) we took a walk over to an area called Nakazakicho, not too far from Umeda, and close to where we were going to be staying in Osaka. We arrived to a walking street, famous in the area for its nightlife spots, including izakaya bars and restaurant, some of which are open late into the night. Most of the street was closed when we arrived, but there were a few restaurants open and we chose to eat at a restaurant that served what we thought was skewers of grilled chicken called yakitori. We ordered some yakitori, and since we had just arrived from Bangkok to Osaka, we decided to also order a plate of sashimi – we did just fly to Japan afterall! We thought we'd be getting a plate of assorted fish sashimi… but after our order of sashimi arrived to our table… we figured out the restaurant we were eating at was an ALL chicken restaurant. Yes, we had an entire plate of chicken sashimi including different parts of the chicken, all sliced up. Some of the pieces were completely raw while others were just slightly cooked around the edges. It was an interesting experience.
14:24 Second Meal in Osaka – After finishing the chicken sashimi, we headed over to another restaurant that was open at 2 am to eat another small meal. The restaurant was homely and everyone was very nice. We ordered some stir fried dishes, kind of like Japanese Chinese comfort food. The food was all good and the family that ran the restaurant were all very nice and friendly – this is where I got my first taste of Osaka hospitality and friendliness!
Dwight had already pre-booked an apartment on Airbnb, and so we headed back to his apartment for the night, in the Nakatsu area of Osaka.
====================================================
Dwight: http://bkkfatty.com/
Check out our blogs: http://migrationology.com/blog & http://www.eatingthaifood.com/ & http://www.travelbyying.com/
I'd love to connect with you:
►SNAPCHAT: migrationology
►Periscope: @markwiens
►Facebook: https://www.facebook.com/migrationology
►Instagram: https://instagram.com/migrationology
If you enjoy our videos, consider supporting us:
►Food Guides: http://www.eatingthaifood.com/guides/
►Make a donation: http://migrationology.com/donate/
Thank you for watching!

source