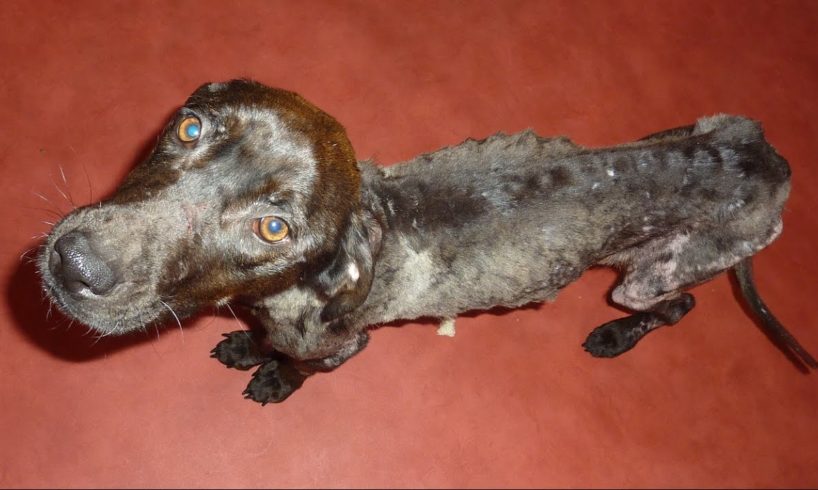 HOWL OF A DOG Rescue Video. No words can describe the suffering of a scared dog, sick and lonely, nearly starved to death, abandoned in a kill shelter, having left only moments to live. Severely emaciated and with her weakened body all covered in fleas and ticks, Theia, a Labrador mix, had almost given up hope, waiting for her end in one of Romania's public pounds. She weighted only 13 kg (and now she's 26, double the initial weight) and was so fragile that we were afraid even to touch her.
After 2 months of intensive medical care she blossomed into a wonderful dog, extremely loving and affectionate, friendly and kind, obedient, well-balanced and grateful, a pure joy to everyone.
She has been with us every day since we rescued her, we watched her as she recovered day by day, as she learned to live again, as she rediscovered the joy of running, of playing with other dogs, as she snuggled happy in her bed. It's been now 8 months since we saved Theia, she has become an integral member of HOWL OF A DOG family.
Theia has become a therapy dog, being now the rescued dog that saves other lives, a real life hero: http://bit.ly/2kIaDKw
There are millions of dogs like Theia waiting for a chance in shelters from all over the world. Sadly, many of them never get to know the love of a forever family. Please consider adopting a shelter dog: he will give you in exchange his loyalty, unconditional love and infinite gratefulness for being his savior.
Watch also: Homeless dog living in a cardboard box gets rescued & has a heartwarming transformation: https://youtu.be/RD8kf4453cY
Terrified German Shepherd Puppy Abandoned In The Woods Gets Rescued Just In Time: https://youtu.be/2PjpZg8xt90
* More animal rescue videos: https://www.youtube.com/user/HowlOfADog
——————————————————-
Howl Of A Dog is a small nonprofit animal rescue organization located in Romania. Our commitment is to rescue abandoned, neglected and abused dogs from the streets or from local kill-shelters and to find them suitable loving forever homes. For more details please visit our website: https://www.HowlOfADog.org or our Facebook page: https://www.facebook.com/HowlOfADog
Thank you!
HOWL OF A DOG organization
Registration Number 33570458
#HowlOfADog

source