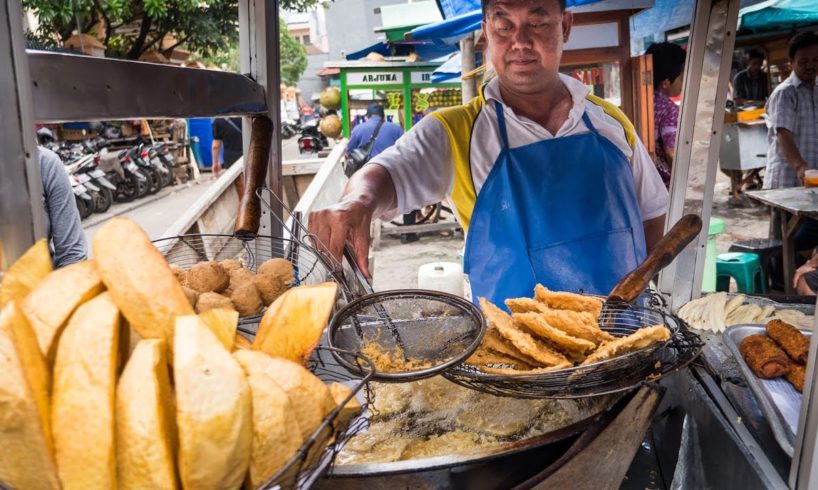 ►Check out 50 of the Best Indonesian Dishes: https://migrationology.com/indonesian-food/
Glodok is the Chinatown of Jakarta, and my wife and I decided to spend the day walking around Glodok and exploring some Indonesian street food throughout the day. At the end of the day, we also stopped by Fatahillah Square, with is an old Dutch square in colonial Jakarta, where you'll find some interesting buildings and some street food snacks as well.
Since we were staying at a hotel (here's information on the hotel I stayed at:https://migrationology.com/travel-guides/jakarta-indonesia/) not too far from Glodok, we decided to beat the traffic and just walk over there. It didn't take more than 15 minutes to walk, and soon we arrived in Jakarta's Chinatown. Glodok is a very interesting area to walk around and explore. There are fresh markets and plenty of restaurants and food to choose from.
The Indonesian street food I tried on this tour was siomay, an Indonesian Chinese dish. From the back of a motorbike, I chose a few of the siomay dumplings he had steaming, and the cut them up and added some peanut sauce to the plate. The texture was a little mushy, but they were alright. Right opposite the siomay, the owner of an Indonesian vegetarian restaurant greeted me and asked if I might like to eat some of his vegetarian food. His vegetarian rendang was particularly good.
One of the most famous places to go in Glodok is Kopi Es Tak Kie, a legendary coffee shop. After wandering around a while we found it. I had a cup of coffee and also a plate of nasi campur from outside the shop.
We continued on our Indonesian street food tour throughout Glodok and I tried a sweet snack called kue ape, which is a green colored little pancake. Next, I had a variety of deep fried snacks including fried bananas, and fried breadfruit. They are definitely pretty greasy, but interesting to sample, and they are very popular street food snacks in Indonesia.
It probably wasn't the greatest idea to walk, but we decided to walk over to Fatahillah Square. The traffic was pretty intense, but we made it. And along with checking out the old colonial buildings one of my main goals was to try kerak telor, which is a traditional Indonesian Betawi street food snack. Luckily I found it and it turned out to be a very interesting and amazing snack to watch being made!
Here's the list of the things we ate and the prices:
Siomay – 15,000 IDR ($1.11)
Vegetarian food – 20,000 IDR ($1.48)
Kopi Es Tak Kie – 10,000 IDR ($0.73)
Nasi campur – 35,000 IDR ($2.58)
Kue ape – 1,000 IDR ($0.07) each
Fried snacks – 12,000 ($0.88)
Kerak telor – 20,000 IDR ($1.48) – Possibly overcharged? Do you think?
Hope you enjoyed the Indonesian street food tour of Glodok and Fatahillah Square, I sure enjoyed eating it!
—
MY WEBSITES:
Camera I use: https://migrationology.com/travel-resources/
T-shirts: https://migrationology.com/store/
Migrationology.com: http://migrationology.com/
EatingThaiFood.com: http://eatingthaifood.com/
TravelByYing.com: http://travelbyying.com/
SOCIAL MEDIA:
Snapchat: @migrationology
Instagram: https://instagram.com/migrationology
Facebook: https://www.facebook.com/migrationology
►Jakarta Travel Guide: https://migrationology.com/travel-guides/jakarta-indonesia/
►50 of the Best Indonesian Dishes: https://migrationology.com/indonesian-food/
—

source