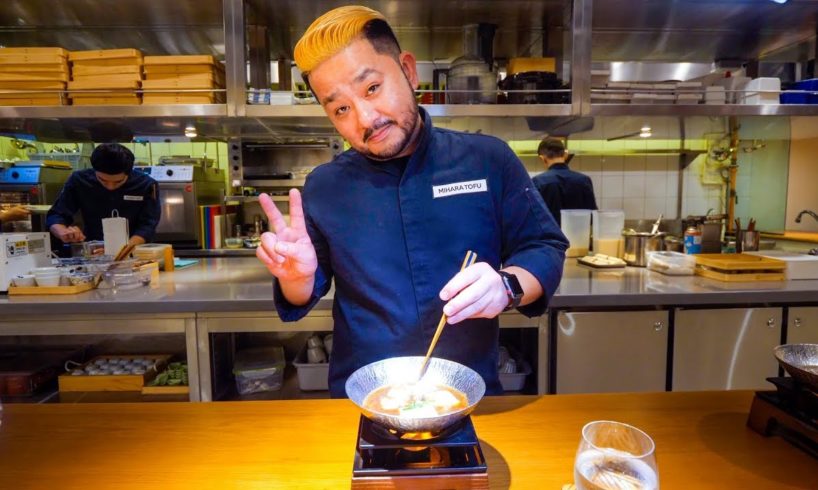 Top Japanese sushi in Bangkok: https://youtu.be/TErxSRC5Jiw
Subscribe http://bit.ly/MarkWiensSubscribe for 2 new videos every week
T-shirts and caps: https://goo.gl/6WdK1l
I think Bangkok is one of the best cities in the world, outside of Japan, for Japanese food. From sushi, to ramen, to even unique meals like a full entire 15 course restaurant dedicated to tofu – you will find in Bangkok.
Chef Gaggan (from Gaggan restaurant in Bangkok) loved the tofu from Mihara in Fukuoka, Japan, and decided to bring it to Bangkok. Along with P'Tan (https://www.instagram.com/itan/), they opened Mihara Tofuten, an omakase tofu restaurant in Bangkok.
In Japan tofu is not usually served course by course, bite by bite, by the chef. It's typically more of a comfort food, possibly an addition to a meal or a side course. So Mihara Tofuten created the world's first all tofu inspired tasted omakase menu. It's the first tofu omakase in Bangkok, and even Japan and the world.
Although all dishes are based on tofu and soybean products, the main course menu is not vegetarian. However, they do have a vegetarian version of their menu as well. I tried the non-vegetarian meal.
I'll start off by saying that I mostly prefer to eat strong and spicy foods, but Mihara Tofuten was not spicy or strong, yet it was absolutely amazing in its pureness and simplicity of flavors, but prepared perfectly. I thought the entire meal was an outstanding experience, and a new way to look at tofu.
If you eat at Mihara Tofuten, you will for sure never think of tofu the same again!
Thanks to my friend P'Tan for inviting me to eat at Mihara Tofuten. I didn't pay for this meal, but it was my choice to make a video and all opinions and thoughts are mine.
MUSIC: https://goo.gl/HwVjdo
CAMERA GEAR I used to make this video (these are affiliate links):
Main camera: http://amzn.to/2sV0XQO
Main lens: http://amzn.to/2szLZNf
2nd lens: http://amzn.to/2EjBeEg
Microphone: http://amzn.to/2rBKD3z
Drone: http://amzn.to/2CrtAHz
FOLLOW:
Instagram: https://instagram.com/migrationology
Facebook: https://www.facebook.com/migrationology
Thank you for watching!

source