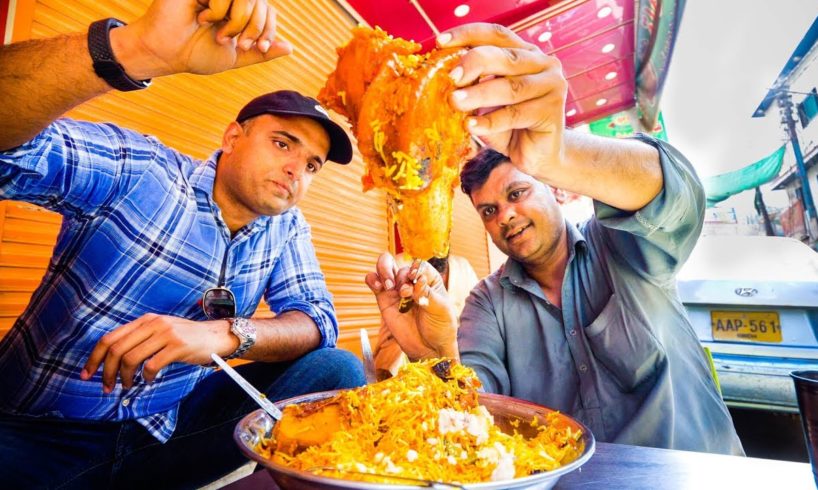 SUBSCRIBE http://bit.ly/MarkWiensSubscribe for 2 new videos every week
T-shirts and caps: https://goo.gl/6WdK1l
Thank you to Ali (Pakistan Travel Market): https://goo.gl/VY6NjH
Watch the entire Pakistani video series: https://youtu.be/Xdya8eym9nM
KARACHI, Sindh, Pakistan
From the mountains on Hunza Valley, we flew to Karachi, on the Arabian sea, and a world of difference from the mountains. I was happy to be in Karachi to discover the amazing street food, and it didn't let us down!
Here are the things we ate on this ultimate Pakistani street food tour of Karachi, Pakistan:
Javed Nihari – I've probably said this a few times, but there's no meatier breakfast (maybe in the world) than nihari, a meat stew that's often paired with plenty of desi ghee and either brains of bone-marrow. It's truly a breakfast of meat loving champions, but it is filling and heavy, and so good. Javed Nihari is one of the best places in Karachi to eat nihari.
Total price – 1,150 PKR ($8.42)
Burns Road – We continued on to Burns Road, one of the legendary street food streets in Karachi. It was a Sunday morning and there were elections happening, so Burns road wasn't actually that busy. But we did find a few delicious things to try.
Arabian paratha – The Arabian paratha, or mataba, or any other names it has across Asia is a stuffed roti. In this case he filled it with chicken and spices and egg before wrapping it up and shallow frying it. It was delicious.
Price – 120 PKR ($0.88)
Matka kulfi – Also on Burns Road is a maka kulfi shop where they sell Pakistani ice cream in little clay cups. The pistachio and saffron were the best.
Price – 50 PKR ($0.37) each
Rabri – I'm not huge on sweets, but on Burns Road we need to try rabri.
Price – 200 PKR ($0.88)
Chicken biryani – Just randomly walking around we decided to try our first plate of Karachi biryani – and Karachi is known for their biryani. It was simple, but very good, with a wonderful flavor of dried lime, and it was just a very cool spot.
Price – 80 PRK ($0.59)
Liaquatabad – We continued this Pakistani street food tour of Karachi in Liaquatabad a busy market area, full of street food.
Qadri Nalli Biryani – This was the highlight of the food tour, if not one of the best dishes of my entire trip to Pakistan. Nalli biryani, Pakistani bone marrow biryani is one of the best things ever.
Price – They wouldn't charge us
Salad – His ninja chopping skills brought me in and there was no way I couldn't stop to eat his salad. Amazing!
Price – 40 PKR ($0.28)
MashAllah Fish Katakat – The next meal we had was MashAllah Fish Katakat, and a dish called katakat. Most of the time its prepared with organs, but this was with fish, and it was again one of the best dishes I ate in Pakistan. An amazing combination of fish, spices, and chutney.
Landhi Dairy Colony – Next we headed to the biggest buffalo colony in Asia, maybe the world. Over 700,000 – 800,000 cattle and livestock live within this area that is within Karachi, Pakistan. It was fascinating to visit and drink the freshest buffalo milk possible.
Dua Restaurant – Finally for dinner we finished this Karachi street food tour at Dua Restaurant, a huge restaurant serving grilled meat and karahis. The prawns karahi was the highlight for me.
Total price – 4,840 PKR ($35.45)
It was an amazing day of street food in Karachi, Pakistan!
Watch the entire Pakistani video series: https://youtu.be/Xdya8eym9nM
Ali: https://goo.gl/VY6NjH
Joel: https://goo.gl/5AkWm6
MUSIC: https://us.audionetwork.com/
Logo: https://goo.gl/VhaLp5
CAMERA GEAR I used to make this video (these are affiliate links):
Main camera: http://amzn.to/2sV0XQO
Main lens: http://amzn.to/2szLZNf
2nd lens: http://amzn.to/2EjBeEg
Microphone: http://amzn.to/2rBKD3z
Drone: http://amzn.to/2CrtAHz
FOLLOW:
Instagram: https://instagram.com/migrationology
Facebook: https://www.facebook.com/migrationology
Thank you for watching!

source