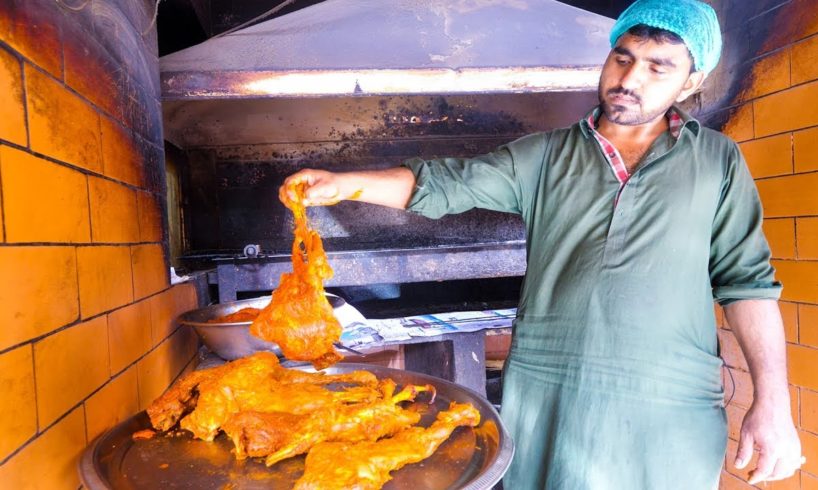 Watch more Pakistani Street Food videos: https://youtu.be/KQb7xuI61XY
Thanks to Ali: https://www.instagram.com/alinhamdani/
Subscribe http://bit.ly/MarkWiensSubscribe for 2 new videos every week
T-shirts and caps: https://goo.gl/6WdK1l
KARACHI, PAKISTAN – When it comes to Pakistani food, Karachi is a heaven on earth with a multitude of delicious and meaty things to eat. On our last visit to Karachi (street food tour: ) we weren't able to eat some of the things I really wanted to try, so I was happy to be back in this massive food city in Pakistan!
Biryani – In the previous episode of Pakistani street food in Karachi (you can watch it here: ), we ate biryani from a very friendly man who sets up his shop just outside Kaiser Restaurant. While I was off filming my intro to this video, Ali and Joel decided to have appetizer biryani. It was just as good as before and his friendly smile and delicious food represent Pakistan. Located just outside Kaiser Restaurant, go check them out!
Kaiser Restaurant – One of the main things Ali and I wanted to eat last trip to Pakistan but they were closed the day we were filming and we ran out of time is Kaiser Restaurant, famous for their whole grilled mutton legs smothers in Masala. We order three of them, covered in masala and one extra spicy. The meat was incredibly delicious and the masala sauce was unbelievable. We had a great time and delicious food. Price – 1,700 PKR ($12.08) per mutton leg
Since we had some time in the afternoon, we stopped at the beach to walk around. At the beach we met Lion King!
Geo Gola Corner – Possibly the world's sweetest dessert, gola ganda is a mashup of shaved ice, ice cream, and all candy and syrups you can think of in the world. Not really for me, but it was amazing to see them make it and assemble it.
Cool Inn – Chaat refers to any of the very common savory snacks common throughout the Indian subcontinent. My favorite is pani puri, and my wife Ying loves dahi puri. But here at Cool Inn which is a famous Pakistani street food chaat spot, Ali and I both loved their special chaat. Price – Around 100 PKR ($0.71) per plate
Anwar Baloch Restaurant – Finally to wrap up this Pakistani street food tour in Karachi, we drove over to Anwar Baloch Restaurant known for their karahi curries. They serve an abundance of goat, but we opted for the prawns karahi. It was one of the richest, and most spice filled, and spicy karahis I've had in Pakistan so far.
It was another amazing day of food in Karachi, Pakistan!
Big thank you for my friend Ali (https://www.instagram.com/alinhamdani/) for making this happen!
Watch my entire Pakistan Food series here: https://youtu.be/Xdya8eym9nM
MUSIC: https://www.audionetwork.com/ and https://goo.gl/HwVjdo
CAMERA GEAR I used to make this video (these are affiliate links):
Main camera: http://amzn.to/2sV0XQO
Main lens: http://amzn.to/2szLZNf
Microphone: http://amzn.to/2rBKD3z
Drone: https://amzn.to/2tzcKmj
FOLLOW:
Instagram: https://instagram.com/migrationology
Facebook: https://www.facebook.com/migrationology

source