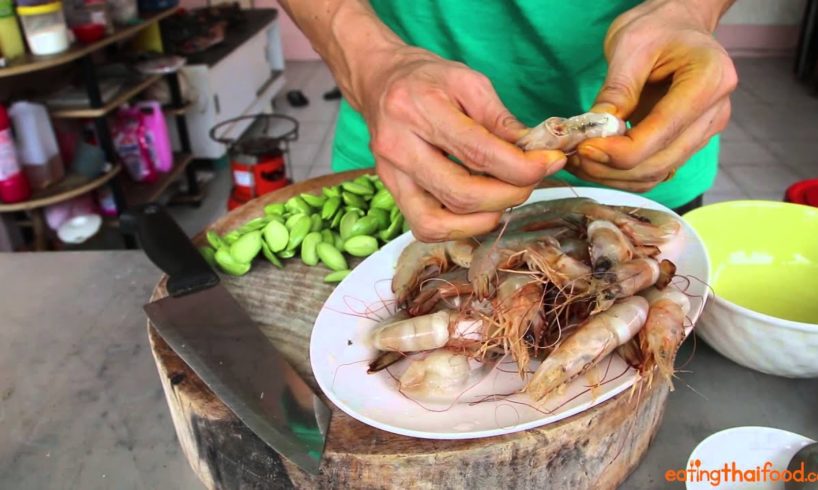 Full stink beans recipe (วิธีทำ กุ้งผัดสะตอ) here: http://wp.me/p4a4F7-2Es
More authentic Thai street food recipes here: http://www.eatingthaifood.com/thai-recipes/
Stink beans, which in Thai are called sataw (สะตอ), but are also commonly called petai, bitter, bean, stinky bean, or smelly beans, are commonly found in southern island parts of southeast Asia, especially in southern Thailand, Malaysia, Singapore and Indonesia. The scientific name is parkia speciosa, the stink beans grow in twisted pods. The pods are tough and you have to first cut the skin to take out the beans. In Thailand, stink beans are eaten raw and also cooked in a number of different dishes. Goong pad sataw (กุ้งผัดสะตอ), or Thai style stink beans fried with shrimp and southern Thai curry paste, is one of my favorite dishes in the world – I could honestly probably eat it everyday of my life.
I'm been a lover of stink beans for many years now, and my mother in-law has been cooking be stink beans for years, so I'm happy to finally be sharing this recipe with you (วิธีทำ กุ้งผัดสะตอ) – I hope you can find some stink beans to be able to give this recipe a try (but if you can't find any, you can substitute something like green beans or Chinese long beans).
Here are the ingredients you'll need for this stink beans recipe (วิธีทำ กุ้งผัดสะตอ):
400 grams shrimp (I'm using shrimp because I love them, but you use any type of meat you like)
2 – 3 heaping tbsp southern Thai curry paste, redipe here: http://www.eatingthaifood.com/2014/11/how-to-make-southern-thai-curry-paste/
1 cup of shelled stink beans (I used 6 pods, and you can use more or less)
1/2 tsp shrimp paste
1/2 tbsp oyster sauce
1/2 tbsp sugar (This is the Thai way, but I like to use less or none)
6 – 8 kaffir lime leaves
2 tbsp oil for frying
Goong pad sataw (กุ้งผัดสะตอ) is actually quite easy to make, and doesn't take a lot of time, as long as you have the southern Thai curry paste ready. The paste can take 1 – 2 hours to make, especially if you pound it by hand, but once you have a batch ready, you can make a number of different southern Thai food dishes with it, and it should keep in the fridge for a few weeks – though it will probably taste the best when it's fresh.
Stink beans are crisp, they are uniquely flavorful, and I love them when they are stir fried with southern Thai curry paste as they take on the beautiful flavor of garlic, shallots, lemongrass and chilies. Hope you enjoyed this Thai video recipe, and hope you can find some stink beans to give it a try!
Get the full recipe here: http://wp.me/p4a4F7-2Es
Music in this video courtesy of Audio Network
This video recipe was made by Mark Wiens and Ying Wiens in Thailand
Check out our websites: http://migrationology.com/blog & http://www.eatingthaifood.com/blog/
Get a copy of our "Eating Thai Food Guide": http://www.eatingthaifood.com/eating-thai-food-guide/
Authentic Thai recipes: http://www.eatingthaifood.com/thai-recipes
Don't forget to subscribe for more Thai food: http://www.youtube.com/subscription_center?add_user=migrationology

source