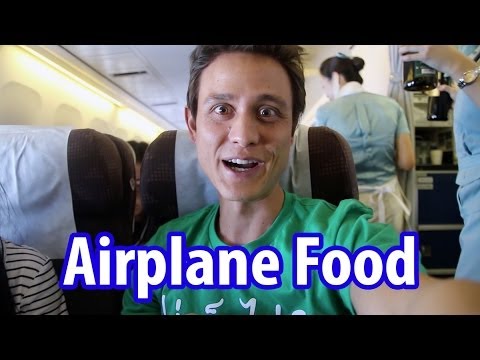 I've eaten a lot of airplane food in my life, but I have to say that Korean Air, when they serve bibimbap (비빔밥 http://migrationology.com/2014/02/go-gung-dolsot-bibimbap-seoul/), is one of my particular favorite dishes I've ever eaten while sky high.
The last time I flew from Bangkok to Honolulu, we flew with Korean Air, and I've flown with them a number of times now. On most of the flights that I've taken with Korean Air, they usually have a couple of meal choices, including one or two that are Western dish options, and then the Korean meal, which has always been bibimbap (비빔밥).
Bibimbap (비빔밥) is one of the great Korean foods. It begins with a bowl of rice, that's topped with a variety of topping ingredients like bean sprouts, green vegetables, some meat, and usually an egg as well if you're eating it on solid ground. So anyway, of course when mealtime care around, I went for the bibimbap (비빔밥) when I flew with Korean Air on my last trip. Ying and I were lucky to be sitting in the exit row, so that's when I had the idea to make a video – it would be pretty tight to make a video eating in one of the other more compact rows.
The tray came with a nice bowl of rice, the delicious Korean style rice which is perfectly cooked, high-quality and always nice and moist. It also came with a hot bowl of soup, and then a mixing bowl which included the variety of ingredients – there was some kind of green vegetable, bean sprouts, I think it was minced beef, and some sliced mushrooms. It's wasn't the most extensive mix of Korean style bibimbap that you'll have, but hey, when you're in the middle of the air, you can't be too picky.
The first thing you do is to open your container of hot Korean rice, again, which is cooked perfectly and is so moist and delicious. I normally just empty my entire thing of rice into the toppings as the first step. Then you take the little tube that looks like a tube of toothpaste, which happens to be the Korean red chili paste, and I would recommend squeezing the entire tube into your rice. Korean chili paste is kind of like a roasted chili sweet sauce, and honestly speaking, it tastes good on just about everything. Along with the Korean Air bibimbap (비빔밥), there's was a small satchel of sesame oil, which increased the flavor of the entire dish. After you got all your ingredients together it's time to start mixing them up. When I'm on the ground, I like to eat dolsot bibimbap, which is served in a flaming hot earthenware bowl, but in the sky, that's a little more difficult to get… so you got to settle for just the normal version.
Anyway like I've said, I've eaten a lot of bad, and mediocre airplane food throughout my travels. I can honestly say that the Korean Air bibimbap (비빔밥) stands out as one of my favorite airplane meals ever. Of course it's not nearly as good as a version you would find on solid ground, but I have to say, compared to other airplane food, it was still pretty good – to the point where I looked forward to the flight for lunch more than any other thing I looked forward to when I was on the flight.
Thank you very much for watching this video, hope you enjoyed it, and if you ever fly Korean Air, be sure to order the Korean meal option.
Just so you know, this video is not an advertisement, I paid for my flights.
Free Thai street food guide: http://www.eatingthaifood.com/free-bangkok-dollar-menu-guide/
Eating Thai Food Guide: http://www.eatingthaifood.com/eating-thai-food-guide/
Bangkok 101 Guide: http://migrationology.com/ebook-101-things-to-do-in-bangkok/
Thank you so much for watching this food and travel video by Mark Wiens. Don't forget to subscribe so you don't miss my next tasty adventure. You can subscribe right here: http://www.youtube.com/subscription_center?add_user=migrationology

source