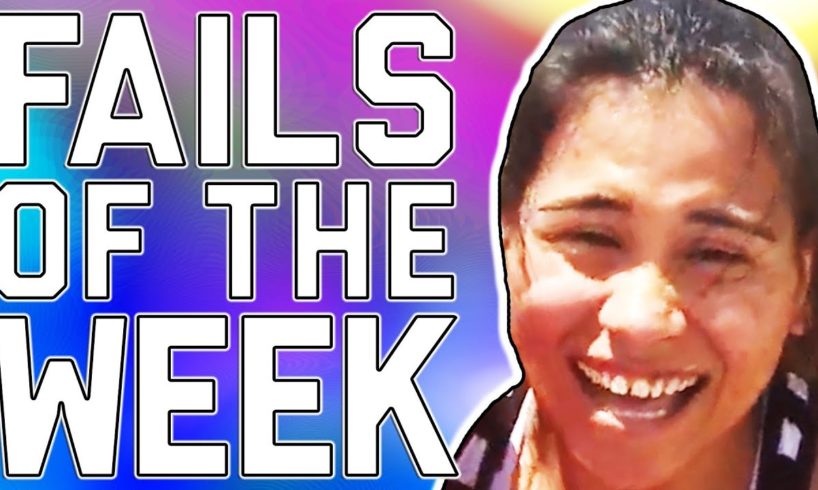 Submit your video for a chance to win Brad Paisely concert tickets: http://bit.ly/2uFCqix
Is there a better way to end the week than with some fails? Didn't think so. We've got some hilarious lake fails, a few kid fails and a guy going through a fence! Have a favorite? Let us know in the comments. Later, dudes.
►►► SUBMIT YOUR VIDEOS! http://bit.ly/fasubmit
SUBSCRIBE! http://bit.ly/fasubscribe
FACEBOOK • http://bit.ly/fafbpage
INSTAGRAM • http://bit.ly/fainsta
TWITTER • http://bit.ly/fatweet
TWITCH • http://bit.ly/2j9rKEX
Check out FailArmy U!!! • http://bit.ly/failu
Download the FailArmy App!!
on iOS • http://bit.ly/faiOS
on Android • http://bit.ly/fadroid
FailArmy gear • http://bit.ly/failmerch
FailArmy is the world's number one source for epic fail videos and hilarious compilations. We're powered by fan submissions and feedback from all around the world, with over 30 million fans across digital platforms!
To license any of the videos shown on FailArmy, please visit Jukin Media at http://bit.ly/jukinlicense.
Videos:
Girl Runs Into Pole While Broadcasting Her Walk https://goo.gl/c6aDjq
Girl Wearing Bikini Tries to Bounce off Diving Board https://goo.gl/G8egeG
Boys at the Skate Park https://goo.gl/pr6KVh
Girl While Playing Punching Bag Game
Woman Off Jump Box Attempting Weighted Squats https://goo.gl/HuiKWX
Pond Skier into Crowd https://goo.gl/s9q3RZ
Motorcyclist into Car while Trying to Dry Gloves https://goo.gl/63JW1J
Lightning Strikes in a Parking Lot https://goo.gl/ijYw8J
Girl From Top of Pole https://goo.gl/p8maKK
Kid Off Moving Walkway Handrail https://goo.gl/xj85BK
Two Sled Riders Knock Down Kids https://goo.gl/5QNnuU
Girl Tumbles into Chairs
Woman Trips Over Open Kitchen Drawer
Driver into Barrier https://goo.gl/MUvAmU
Dog Sleeps Through Band Performance https://goo.gl/azqsUD
Skier Tries to Jump off Ledge https://goo.gl/PCXBh6
Little Girl Tumbles Off Playground Equipment
Fire Extinguisher Explodes in Bathroom https://goo.gl/9twZ9Q
Plastic Plate Flies Off SUV https://goo.gl/2W3nq7
Guy Attempts to Ride Barefoot Next to Boat https://goo.gl/5hfG3w
Toddler Hits Big Brother in the Nuts with Toy Bat https://goo.gl/3BmZkt
Teen Tries to Jump over Bannister https://goo.gl/TZKJs7
Man Through Fence While Playing Dizzy Bat Game https://goo.gl/dqGyPe
Man Breaks Mirror Attempting to Walk on Giant Tire https://goo.gl/EHRn8h
Girl Runs Down Bowling Lane https://goo.gl/aDziAu
Rally Car's Hood Shatters Windshield During Race
Man Drops Bookshelf Off Balcony
Man on Parallel Bars https://goo.gl/4Q36yQ
Shelf on Guy's Head https://goo.gl/VdSbLa
Man Into Lake Trying to Waterski Barefoot https://goo.gl/ZM8jQC
Motorcyclists on the Freeway https://goo.gl/frT8zi
Bicyclists Collide into Each Other https://goo.gl/E7CDC9
Girl on Christmas Tree https://goo.gl/HpqSib
Board Flies into Guy's Face https://goo.gl/PWQkiW
Fish Scares Baby Deer https://goo.gl/B868o3
Skateboarder Breaks Rail
Guy on Go-Kart Waits for Airbag to Deploy https://goo.gl/gFM3xV
Girl Tries to Jump over Water https://goo.gl/9KcYTa
#FailArmy #FailsoftheWeek

source