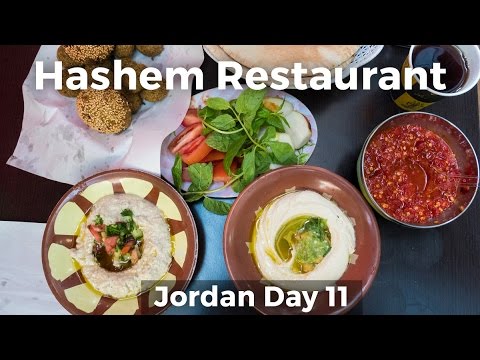 Hashem Restaurant is probably one of the most famous and one of the oldest restaurants in downtown Amman. And not only are they located in a great location, but they serve very good food. For more information check out my Amman Travel Guide: http://migrationology.com/travel-guides/amman-jordan/
On Day 11, Ying and I were on our own. Although I had some video editing and blogging that I needed to do, we did a little bit of exploring, and I really wanted to eat at the legendary Hashem Restaurant. From our hotel, we took a short walk down the hill, enjoying some great views of Amman, until we reached the bottom of the valley where downtown is located. We arrived around 11 am in the morning, and from the steps we took down the hill, we arrived just a turn away from the entrance of Hashem Restaurant – very convenient.
The restaurant was packed and bustling. I would like to quickly mention that meals are eaten pretty late in Jordan, many people don't eat breakfast until 9, 10, or even 11 am, so I think most of the people eating when we arrived were mostly having breakfast. Lunch is typically eaten more around the 2 pm – 4 pm time range. It took a few minutes, but we found a table that someone left, and after getting it cleared, we sat down and ordered. I don't think they really have a menu at Hashem Restaurant, but they have all the basic dishes like hummus, ful, moutabel, and falafel – the hummus and falafel, including the stuffed falafel are some of the most famous dishes they serve. Hashem Restaurant has been visited by many famous people from around the world, and it seems that many Royalty, politicians and celebrities, when they visit Amman, make it a point to eat here. So I was pretty excited to eat here too.
I ordered a range of different dishes to try, including hummus, moutabel, ful medames, and finally both normal falafel and stuffed falafel. The stuffed falafel were about twice the size, and stuffed with onions and sumac, they were delicious. The hummus, topped with a generous amount of olive oil, was also extremely good, with a very refreshing lemon taste, and I really liked how they added on some green chili sauce to the top. With a little red chili sauce and using bread to dip it up, the hummus was excellent. The ful was also wonderful, with lots of olive oil and green chili sauce on top to make it even better. And finally the moutabel, one of my personal favorites, didn't let me down either. It was smoky and creamy, with nearly the consistency of whipped cream.
After a delicious meal at one of the most famous restaurant in Amman, we headed back up the hill and started walking back to our hotel. We stopped at a fruit store and bought a bag of different fruit to eat through the afternoon, including some more wonderful green almonds.
Hashem Restaurant (مطعم هاشم)
Address: Complex No 4, Prince Mohammad St 4, Amman 11151, Jordan
Prices: I paid 7 JD for our entire meal, and I also had an extra bowl of moutabel not shown in the video.
—
Amman Travel Guide: http://migrationology.com/travel-guides/amman-jordan/
MY WEBSITES:
Migrationology.com: http://migrationology.com/
EatingThaiFood.com: http://eatingthaifood.com/
TravelByYing.com: http://travelbyying.com/
T-shirts & Food Guides: https://migrationology.com/store/
Resources: http://migrationology.com/travel-resources/
SOCIAL MEDIA:
Snapchat: @migrationology
Instagram: https://instagram.com/migrationology
Facebook: https://www.facebook.com/migrationology
Thank you very much for watching this Jordan food and travel video!
—

source