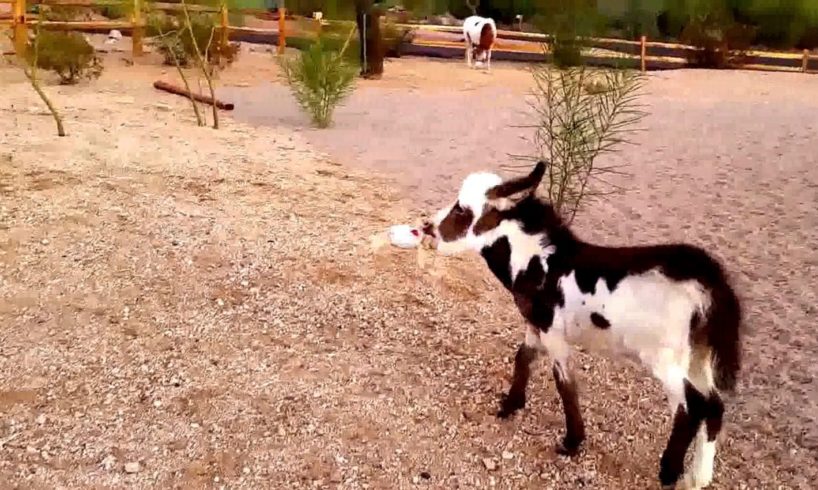 Click to Subscribe to Rocky the Spotted Donkey's Channel: https://www.youtube.com/channel/UCbF0Y0ugSo9g-0RMfO2U4sg
[cutest animals ever] Rocky the Spotted Donkey is the cutest animal ever! He is a hilarious baby miniature donkey with a big character. This cute video of Rocky, features his cute antics as he plays with his very own teddy bear. Watch Rocky love his teddy bear as he shakes it around, carries it lovingly as he walks around and turns circles around his mom with it! Finally, see what he does with his teddy bear when he decides to take a roll at his favorite rolling spot!
Don't miss any cute videos of Rocky….subscribe to his YouTube channel to see his latest videos! https://www.youtube.com/channel/UCbF0Y0ugSo9g-0RMfO2U4sg
About Rocky the Spotted Donkey
Rocky is a Miniature Mediterranean donkey, lives in Scottsdale, AZ, and is in training to be a pet therapy animal. Rocky seems to have a unique appreciation for life and definite joy of living. Our goal is to bring smiles, hope, joy & laughter to as many people as possible. Our motto is to "Enjoy the Little Things in Life"!
It will be a fun adventure for Rocky as we train him to be a therapy animal and we hope you will come along with him on his journey! Rocky's YouTube channel will feature his journey including his funny baby donkey antics, cute videos, his relationships with others including dogs, cats, horses, ponies, children and special needs. We'll feature videos of the places Rocky goes and also how he is trained. Along the way we'll be sure to "enjoy the little things in life" and hopefully bring joy, smiles, hope and laughter to as many people as possible. Come along on Rocky's journey. This is the beginning. We hope you will subscribe to Rocky's YouTube Channel!
Comment, share, and subscribe to stay in touch and get Rocky's latest videos – YouTube:
https://www.youtube.com/channel/UCbF0Y0ugSo9g-0RMfO2U4sg
Like Rocky's Facebook page where you'll be kept up-to-date with photos, video clips & events:
https://www.facebook.com/rockythespotteddonkey/
For more information about Rocky, visit his website:
http://rockythespotteddonkey.com/
Follow a photo & video journal of Rocky's life on Instagram:
https://www.instagram.com/rocky_the_spotted_donkey/
Follow Rocky on Twitter:
Tweets by RockysSpots
I am the creator & owner of this video. For licensing / permission to use, please contact: info@rockythespotteddonkey

source