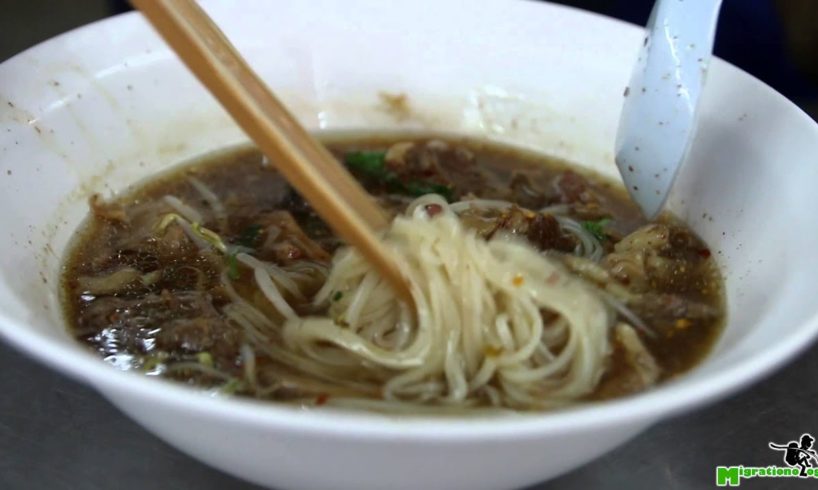 Wattana Panich (วัฒนาพานิช-ก๋วยเตี๋ยวเนื้อ) is one of the most famous restaurants for Thai beef noodles in Bangkok. More details here: http://www.eatingthaifood.com/2014/09/thai-beef-noodles-wattana-panich-ekkamai/
A few years ago I made a video about Thai beef noodles, at a little restaurant in the Udom Suk area of Bangkok. The beef noodles there were extremely good, but someone commented saying I needed to try the beef noodles on Ekkamai Soi 18. I put it on my list, but just didn't have the time to go there for a long time. But finally, after a long wait, I finally made my way to the famous Wattana Panich (วัฒนาพานิช-ก๋วยเตี๋ยวเนื้อ) restaurant to taste the beef noodles – and I was excited.
I was even more thrilled when we arrived, and I peered into the most beautiful cauldron of slow simmering beef, like a jacuzzi of meat, that greeted me as I entered. Their pan of slow bubbling beef was one of the most amazing food things I had seen in a very long time, and I could hardly wait to order a bowl of beef noodles (ก๋วยเตี๋ยวเนื้อเปื่อยเส้นเล็ก). But along with beef, Wattana Panich (วัฒนาพานิช-ก๋วยเตี๋ยวเนื้อ) also is famous for their braised goat noodles – so any chance I get to order goat, I can't resist.
The kuay teow neua (beef noodles) came out first, and I ordered the special size, meaning it was a little bigger, and with a little more beef than the normal bowl. For the noodles I ordered sen lek, the medium sized rice noodles, and my usual preferred choice when it comes to noodles. The noodles were swimming in that beautiful broth, and then covered in a good spoonful of the amazing tender cubes of beef, and finally garnished with a few sprigs of cilantro (coriander). I tasted the beef noodles first, and the broth was a beautiful concoction of beef braised with a hint of spices like star anise and cinnamon. The beef was so tender and had so much beefy flavor to it. I loved it plain, but it even got better when I added some extra chili flakes and a scoop of vinegar to sour things up. It was one of the best bowls of beef noodles (ก๋วยเตี๋ยวเนื้อเปื่อยเส้นเล็ก) I've had in a long time in Bangkok.
And then the goat noodles (kuay teow pae sen lek ก๋วยเตี๋ยวแพะเส้นเล็ก) emerged from the kitchen, the goat is cooked behind the scenes, not visible in the front part of the kitchen. It came in a smaller bowl, but the chunks of goat on the top of the bowl were so huge, I could hardly even see the noodles at the bottom. The goat was braised similar to the beef, I think. It was in a similar blend of Chinese spices, but included even more Chinese herbal medicine spices like red goji berries and astragalus root. The broth was much thicker than the beef noodles, so it was more of a stew than a soup, and that was fine by me. The goat meat was unbelievably tender, so soft that it completely melted in my mouth and I barely had to chew. The broth was calm and soothing, and extremely meaty tasting.
If you love Thai beef noodles or goat noodles, when you're in Bangkok, you need to make it a mission to visit Wattana Panich (วัฒนาพานิช-ก๋วยเตี๋ยวเนื้อ). Both dishes were amazing and so meaty. I loved it.
Wattana Panich (วัฒนาพานิช-ก๋วยเตี๋ยวเนื้อ)
Address: 336-338 Ekkamai Soi 18, Thanon Sukhumvit, Bangkok, Thailand
Phone number: 02-391 7264, 02-392
Open hours: 10 am – 8:30 pm daily
How to get there: The restaurant is located in the Ekkamai area of Bangkok, on Ekkamai Soi 18. You can take the BTS Skytrain to Ekkamai, and from there, it's easiest to jump in a taxi, bus, or motorbike to Soi 18. You could walk, but it's a bit far, maybe 2 – 3 kilometers.
Prices: 80 – 100 THB for beef noodles, 200 THB for goat noodles
ที่อยู่ 336-338 ซอยเอกมัย 18 ถ.สุขุมวิท 63 (ซอยเอกมัย 18) คลองเตยเหนือ กรุงเทพ
โทร. 02-391 7264, 02-392
เปิดบริการทุกวัน 10:00 – 20:30
The music in this video is all from AudioNetwork.com
Restaurant details here: http://www.eatingthaifood.com/2014/09/thai-beef-noodles-wattana-panich-ekkamai/
I'm Mark Wiens, an eater at: http://migrationology.com/blog & http://www.eatingthaifood.com/blog/
Support me (make a donation): http://migrationology.com/donate/
Premium guides: http://www.eatingthaifood.com/guides/
Don't forget to subscibe for more food adventures: http://www.youtube.com/subscription_center?add_user=migrationology
Thank you for watching!

source