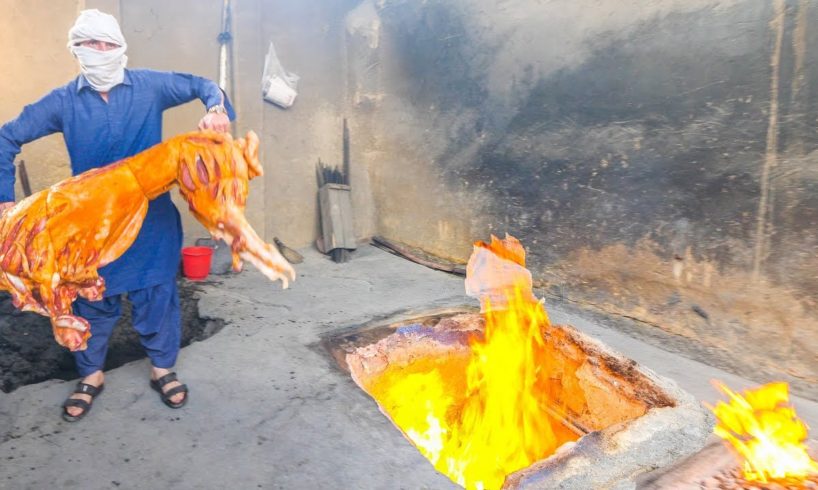 Check out https://ExpressVPN.com/thefoodranger for 3 months free w/ 1 year pack and 49% OFF!
► More Street Food in Pakistan: https://youtu.be/0tEZ_WxQyqI
►Go follow My buddy Ali: https://www.instagram.com/alinhamdani/
►subscribe to my channel: https://www.youtube.com/thefoodranger
Today, I'm (The Food Ranger, Trevor James) and my buddy Ali are taking you in FULL ON for a huge MEAT TOUR and STREET FOOD ADVENTURE of Quetta, Pakistan! Quetta is in Pakistan's largest province of Balochistan and is home to some of the best street food and MEAT in the whole country if not the world! This is the ULTIMATE Balochistan street food tour of Quetta!!
We're going street food rangin' for tons of famous Pakistani Street Food, mostly all MEAT in this street food video, including the ULTRA FAMOUS Rice stuffed Lamb, the kadi kabab, and the famous Balochistan style Rosh!
Quetta street food is VERY delicious and famous for meat! Today, we're starting out with a famous Pakistani street food BREAKFAST stall, trying some incredible beef foot paya and also of course the chenna chickpea stew and some paratha! It was very delicious! The PAYA was full of INCREDIBLY delicious BEEF fat around the foot and sloppy bone marrow!!!
After this, we're going Foodrangin' and finding even more delicious street food in Pakistan! We're going next to a local FRIED BEEF HEART stall that was incredibly potent! What was even cooler was how all the local people gathered around and we all had some nice conversation about the food! People are so friendly in Quetta!
Next up, we're going to a famous Pakistani meat restaurant on the outskirts of Quetta, the ROSH!! Our friend Ali is bringing us to a local restaurant to try a mutton dish cooked in it's own fat!! It was super tasty!!
To finish off the day, I'm having some famous CHICKEN SAJJI and MUTTON SAJJI leg piece and chest piece at lehri sajji in downtown Quetta! It was a true MEAT HEAVEN here in Quetta, and the chicken sajji and mutton sajji were incredibly soft and succulent and juicy and covered in a local masala!
And to finish our Quetta, Balochistani street food journey, we're going to try the famous Kadi Kabab, a whole lamb stuffed with rice and cooked underground and stuffed with rice, almonds, and raisins! It was insanely delicious!!
We found one of the most unique street foods in Pakistan, the Pizza naan! It was loaded with tomato, coriander, potato mash, and sliced potato! It was quite salty and was delicious!
I hope you're enjoying this big Pakistani street food video series! Thanks so much for watching, I would love to hear from you down below!
There is much more street food in our Pakistani food videos series, get ready for the playlist of a lifetime!!
► MERCH AVAILABLE HERE: https://shop.bonfire.com/thefoodranger/
The Food Ranger YouTube:
► https://www.youtube.com/thefoodranger
The Food Ranger Instagram:
► https://www.instagram.com/thefoodranger
The Food Ranger FB:
► https://www.facebook.com/thefoodranger
► MUSIC I USE (Great For YouTubers): http://share.epidemicsound.com/pf97L
►3 Months FREE on ExpressVPN and 49% OFF! https://ExpressVPN.com/thefoodranger
►My Street Food Blog: https://thefoodranger.com
Thanks so much for watching my Pakistan Street Food videos!

source