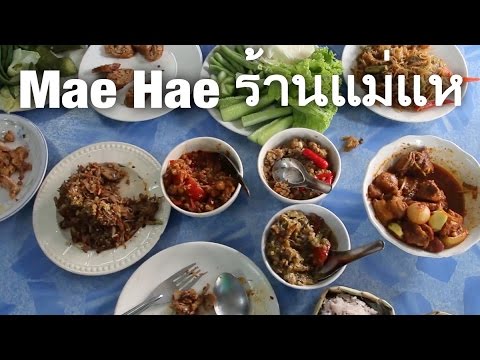 Best northern Thai food in Lampang, read more here: http://www.eatingthaifood.com/2015/01/northern-thai-food-lampang/
Lampang (ลำปาง) is a medium sized city in northern Thailand, located just about an hour from the bigger and more famous city of Chiang Mai. Lampang is still quite a large city – much bigger than a village – yet at the same time it has a much smaller feel to it – and to me it feel more traditional and more preserved than Chiang Mai. Anyway, I'm a really big fan of Lampang, and I really like to visit the city – it makes a great getaway from Bangkok. Lampang (ลำปาง) is famous throughout Thailand for a number of things, including the country famous Wat Phra That Lampang Luang, which is located about 30 minutes from the city, and it's also known for still using horse drawn carriages, which has become the emblem of visiting Lampang.
However, the reason I visit Lampang (ลำปาง) is for the amazing food, and one of the legendary northern Thai food restaurants, located right in the heart of the old part of the city is Mae Hae (ร้านแม่แห). Mae Hae (ร้านแม่แห) is almost a house-hold name in Lampang, every one knows it, and everyone considers it one of the best places to experience local old-style northern Thai cuisine. As soon as you enter the restaurant you can almost feel just how warm and comforting it is, it has a wonderful motherly feel to it – and after tasting the food you'll even feel more at home.
At Mae Hae (ร้านแม่แห), all the food and dishes are placed at the front of the restaurant, and you can walk up to the front and choose the northern Thai dishes you want to try – there's just about everything you can imagine. One of the most famous northern Thai dishes, and one dish that you don't want to miss when you eat at Mae Hae (ร้านแม่แห) is gaeng hunglay (แกงฮังเล), chunks of pork in a fragrant salty and sweet curry that's gingery and full of flavor. I've had many bowls of gaeng hunglay (แกงฮังเล) living in Thailand, but this was probably the best version of the dish that I've ever had in Thailand so far – it was incredible, but the tenderness of the pork, and the delicious sauce.
Another northern Thai cuisine dish I always enjoy is tam kanun (ตำขนุน), a young jackfruit salad. The jackfruit is boiled, then shredded, so it almost looks like shredded pieces of chicken, then it's mixed with spices and some oil. Ther tam kanun (ตำขนุน) at Mae Hae (ร้านแม่แห) was excellent, almost like a creamy potato salad, but much silkier. I thought it was very good. Sai ua (ไส้อั่ว), northern Thai herb sausage, is another famous item on the menu at this awesome restaurant in Lampang. The sausage is made right at the restaurant, and instead of just grilling it like many places do, they grill their sai ua (ไส้อั่ว) in coconut husks so it has an incredibly smoky flavor.
When Mae Hae (ร้านแม่แห) saw my wife and I making a Thai food video of our meal there, she brought us all sorts of small dishes of food to taste, and she refused to take payment. So I had no plans to not pay for this meal, but because the owner is so nice, she took care of us – so a big thank you to Mom for her kindness!
I hope you enjoyed this short northern Thai food documentary, and if you ever visit Lampang, this is one of the first restaurants you should visit: http://www.eatingthaifood.com/2015/01/northern-thai-food-lampang/
More Lampang restaurants: http://www.eatingthaifood.com/lampang-restaurants/
Music in this video courtesy of Audio Network
This video was produced by Mark Wiens and Ying Wiens, living in Thailand: http://migrationology.com/blog & http://www.eatingthaifood.com/
►Check out the things I use: http://www.eatingthaifood.com/resources/
►Get my free food updates: http://migrationology.com/food-news

source