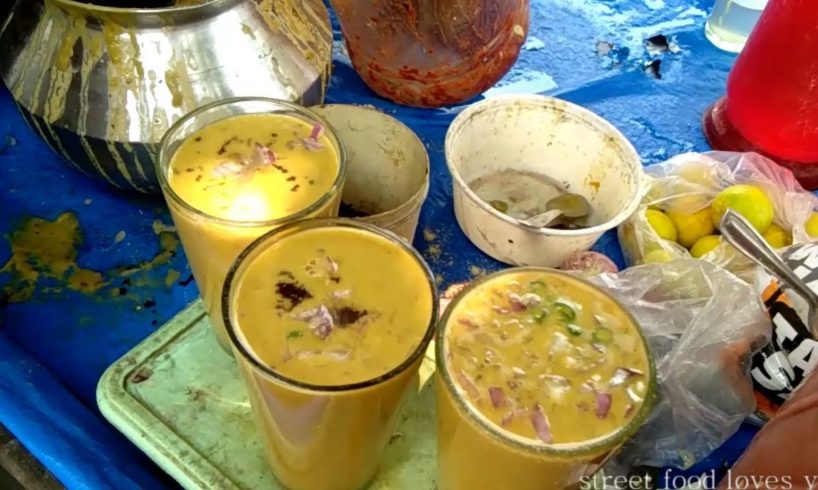 India/Kolkata Street Food – Sattu Drink (Tasty Healthy Drink) Very Common Street Food in India.
Medical advantages of Sattu :
1. Coolant for Body
2. Panacea for Women
3. Sparkling Skin
4. Glossy Hair
5. Mixture for Old Age
6. Shelter for Diabetics and High BP Patients
7.Stamina Booster
Sattu Sharbat Recipe :
All You Need:
2 tablespoons of sattu powder + 3 tablespoons of sugar + Salt to taste +1 lemon 2 glasses of water. Mix this ingredients properly.
Free Subscribe us for more videos : https://goo.gl/Mg1IcU
My Other Related Videos :
Kolkata Street Food – Dahi Golgappa ( Dahi Phuchka ):

Beautiful Darjeeling Lady Selling Roasted Corn :

India Street Food – EGG ROLL PARATHA – Street Food Darjeeling : https://www.youtube.com/watch?v=dI-_YNlFRfg
Darjeeling Street Food | India Street Food | Bread Omelet : https://www.youtube.com/watch?v=KasP2mQHdvo
Kolkata Street Food – EGG Moglai Parata – Street Food India Non Veg 2017 :

Street Food Kolkata|Making Egg/Chicken Chow mein/Noodles|Indian Street Food 2017: https://www.youtube.com/watch?v=uAWpAg5K2YY
Street Food India | Kolkata Street Food | Egg Roll – Best Popular Fast Food India : https://www.youtube.com/watch?v=_0I6PQBKT80
Street Food Kolkata – See How 100's of People Eating Chicken Momo :

Kolkata Street Food – Tasty Masala Dosa:

India Street Food | Street Food Kolkata – Best Gughni Chaat : https://www.youtube.com/watch?v=SXYKTxemsCY
Kolkata Street Food – Jelly Diamond Fruit :

Woman Power -Look How Lady Selling Ghugni Chaat – India Street Food :

Sattu Ka Paratha/Roti With Potato Chokha & Chatni : https://www.youtube.com/watch?v=185ctUF6YDw
Masala Bhutta (Fire Roasted Corn) | Street Food Kolkata | Healty & Tasty Street Food India : https://www.youtube.com/watch?v=H7MTEPHNnes
Pani Puri | Golgappa | Puchka | Gupchup Famous India Street Food : https://www.youtube.com/watch?v=ok47I733Q1o
Bengali Street Food India | Tasty Masala Raw mango (Aam): https://www.youtube.com/watch?v=amwvZXktkwU
Street Food India – How to Make Egg Pakoda – Egg Chops – Popular Kolkata Street Food 2017 : https://www.youtube.com/watch?v=iesFK_YDrVY
Masala Muri (Jhal Muri ) – Indian Street Food Kolkata: https://www.youtube.com/watch?v=xhx5iAbqCfE
Ilish Fish Fry – Bhetki Fish Fry – Kolkata Street Food : https://www.youtube.com/watch?v=NwhHCy0tsTU
Indian Village Aunty Cooking Prawn Sea Fish Fry: https://www.youtube.com/watch?v=mCui3gW3pYQ
How to make Dal Kachori / Luchi / Puri in Indian Street: https://www.youtube.com/watch?v=sk12FbGrlWU
How to make Papri Chaat :

How to Make Khaja Sweet :
https://www.youtube.com/watch?v=aSAHS1SEfVM
How to make lachha paratha in street kolkata : https://www.youtube.com/watch?v=qwLu7kimNDY
How to Make Lamba Papad in auto machine:

Amazing Mango Papad Packing in Kolkata Market : https://www.youtube.com/watch?v=SXuVQ7xt47o
How To Make Orange Juice in Kolkata Street :

Sweet Lassi Making In Kolkata Street :

Mango ICE CREAM Kulfi – Indian Street Food :

Baby Eating Crispy Chicken Burger & Grilled Chicken : https://www.youtube.com/watch?v=O-wKcfCOIlI

source