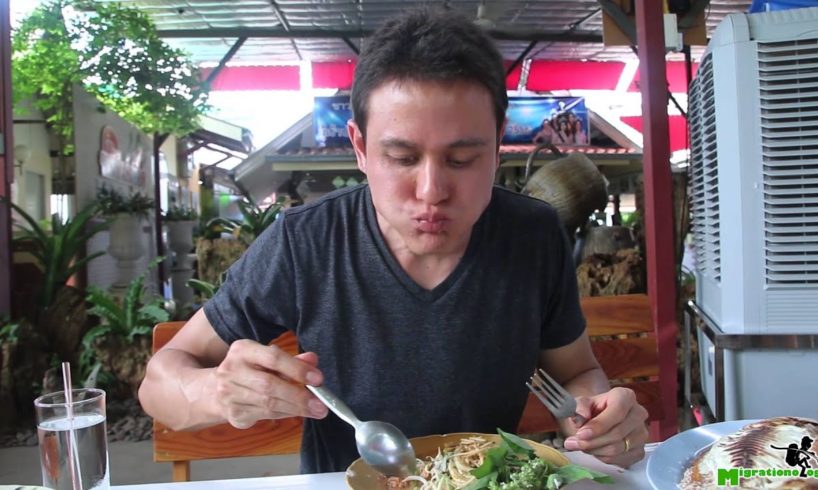 Nakhon Ratchasima (นครราชสีมา), but more commonly known just as Khorat (โคราช), is a city in the Isan province of Thailand. Ying and I headed there for a few days of hanging out and eating and one of the restaurants we ate at was Kanom Jeen Kru Yawd (ขนมจีนครูยอด). More details here: http://www.eatingthaifood.com/2014/10/kanom-jeen-restaurant-korat-thailand/
Kanom Jeen Kru Yawd (ขนมจีนครูยอด) is most famous for serving kanom jeen noodles (ขนมจีน) and curry. What is kanom jeen? Kanom jeen are Thai rice vermicelli noodles, that are made fresh (instead of being dried), but left to ferment for a day or so. They are soft and slightly sour, and have a wonderful milky texture to them. Kanom jeen noodles (ขนมจีน) are served across the country of Thailand, from the south to the north, and they are really a beloved Thai staple dish. Sometimes kanom jeen noodles are eaten with salads like som tam, but most commonly, they go together with rich curry.
At Kanom Jeen Kru Yawd (ขนมจีนครูยอด), we first order two different types of curry with the noodles. Our first dish was kanom jeen nam ya kati (ขนมจีน น้ำยากะทิ), which is a curry made with coconut milk. I'm normally used to eating the southern Thai style version of this dish, but this Isan version in Khorat town (โคราช),, was a little different. The curry was a beautiful blend of spices and herbs, all blended into a rich coconut milk gravy. What I really liked about it, was that it had a wonderful krachai, or fingerroot taste to it. Another thing I love so much about eating kanom jeen in Thailand, is that it's always served with a big pile of fresh raw vegetables to eat on the side – you can usually eat as much vegetables as you want, and I like to pile them on top of my noodles and curry.
We also tried the kanom jeen gaeng gai (ขนมจีน แกงไก่), rice noodles topped with chicken curry. It was similar to a green curry in taste, but they just called it chicken curry. The chicken was again, curried in a coconut milk broth, with spices and herbs. It was alright, but I much preferred the kanom jeen nam ya kati (ขนมจีน น้ำยากะทิ) for its more spicy and richer flavor. Overall, both plates were very delicious and I could immediately tell why Kanom Jeen Kru Yawd (ขนมจีนครูยอด) was such a popular restaurant to eat at in Khorat.
Along with our noodles, Kanom Jeen Kru Yawd (ขนมจีนครูยอด) is also extremely well known for their fried chicken (ไก่ทอด), which happened to just be the wings, so we didn't want to miss an opportunity to try them as well. They turned out to be very tasty – the chicken was fried hot and fresh, and they were crispy on the outside and just the right saltiness. The fried chicken went quite well with the curry. Also, to get some more protein, I couldn't resist ordering a grilled fish, known as pla pao (ปลาเผา). The fish was coated in salt, and grilled. It was extremely juicy, the meat of the fish was firm and milky. Just like the fried chicken, it went extremely well with the kanom jeen noodles and the tasty curries.
Overall, I would definitely say that Kanom Jeen Kru Yawd (ขนมจีนครูยอด) is an excellent restaurant, and if you ever visit Khorat town (โคราช), you should definitely have a meal here.
Grilled fish recipe: http://www.youtube.com/watch?v=TuZ_0A97xRU&list=PL1F34F04113C35AD7&index=7
Music in this video is all from AudioNetwork.com
Mark Wiens is an eater at: http://migrationology.com/blog & http://www.eatingthaifood.com/blog/
Support our videos: http://www.patreon.com/markwiens
Premium guides: http://www.eatingthaifood.com/guides/
T-shirts: http://markwiens.spreadshirt.com/
Don't forget to subscibe for more food adventures: http://www.youtube.com/subscription_center?add_user=migrationology
Thank you very much for watching this video!

source