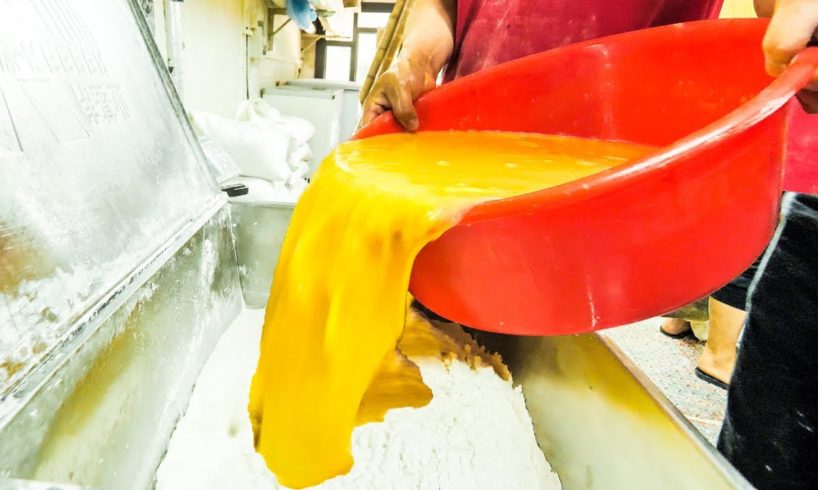 Check out https://ExpressVPN.com/thefoodranger for 3 months free w/ 1 year pack and 49% OFF! Chinese Street Food – DUCK EGG Noodles and BBQ Pork Buns in Guangzhou, China. Join us and try some of the BEST Street food in China on this huge Chinese Street Food tour! We found DUCK EGG NOODLE heaven in Guangzhou! Join us for a full on street food tour of Guangzhou, China, as we eat a ton of delicious Chinese street food, visiting Chinese dim sum restaurants and local hole in the wall noodle joints. Today, we're getting a cooking lesson, learning the traditional duck egg noodle recipe, and making them by hand in a local hole in the wall restaurant in Guangzhou. We're visiting Chinese dim sum restaurants and much more, DEEP in the streets of Guanghzhou, China! Join me (Trevor James, The Food Ranger) as we visit tons of amazing street food joints in Guangzhou, tasting a ton of delicious Cantonese food! Guangzhou is a true street food heaven!!
Make sure to go subscribe to Cheddar's YouTube Channel here:
http://bit.ly/CheddarSub
► MUSIC I USE (Great For YouTubers): http://share.epidemicsound.com/pf97L
►BEST VPN FOR CHINA (ACCESS YOUTUBE):
http://bit.ly/AccessYouTubeinChina
► MERCH AVAILABLE HERE: https://shop.bonfire.com/thefoodranger/
Today, we're traveling deep into the streets of Guangzhou to try and eat some of the basics of Cantonese food. We are starting out bright and early in the morning and visiting a famous egg noodle restaurant, and watching the master chefs make the noodles with a huge bamboo pole! After watching this and the cooking process, we taste the amazing egg noodles, served with a spicy broad bean sauce and continue on for more Chinese street food in Guangzhou.
After the noodles, we're bringing you DEEP into a local food market in Guangzhou to see what Cantonese street foods we can find, and we find an amazing street food known as the Zhimahu, a sesame porridge, served to you right there on the street! It was sweet and very hearty and also served with ginger pig feet! A very UNIQUE dish!
After exploring the market, we visit Guangzhou's most famous Dim Sum restaurant, the Guangzhou Jiujia AKA Guangzhou Restaurant, a heritage restaurant in Guangzhou that serves up some amazing dim sum! We ordered the Har Gao shrimp dumplings, Siu Mai pork dumplings, Cha sui bao BBQ pork buns, and the FengZhua steamed Chicken feet. These 4 dim sum dishes are the classic combo I always like to order at dim sum restaurants in China.
After the delicious dim sum at Guangzhou Jiujia, we went to try a famous street food in Guangzhou, China, the Niuza, AKA Beef organ stew. This was rich, strong, and hearty beef organ stew that was surprisingly very delicious!
To finish off the day in Guangzhou, we visited a night street food area and found a Bozaifan restaurant serving up a huge selection of different varieties of claypot rice. I ordered up the classic lap mei fan, a claypot served with a few different types of Cantonese sausage. It was amazingly delicious!
Here are the addresses for these street food locations:
1) Amazing Duck Egg Noodles –
Name: 自造竹升面 –
Address: 前进大街17号
2) Huge Chinese Street Food Market in Guangzhou –
Address: 前进市场 423 同福中路
3) Delicious Dim Sum at the Guangzhou Restaurant
Name: Guangzhou Jiujia – 广州酒家
Address: 文昌南路2号
4) Awesome Beef Organ Stew
Name: 肥佬牛杂 Feilao NiuZa
Address: 庙前直街12号(东山区少年宫对面)
5) Delicious Claypot Rice with Cantonese sausage
Name: 铭泰煲仔饭 Mingtai BoZai Fan
Address: 陆居路8号立白中心旁
ABOUT THE FOOD RANGER
My name is Trevor James and I'm a hungry traveler and Mandarin learner that's currently living in Chengdu, Szechuan, China, eating up as much delicious street food as I can . I enjoy tasting and documenting as many dishes as I can and I'm going to make videos for YOU along the way! Over the next few years, I'm going to travel around the world and document as much food as I can for you!
Facebook: https://www.facebook.com/thefoodranger
Twitter: https://twitter.com/FoodRanger
Insta: https://instagram.com/thefoodranger
MUSIC I use for my videos (GREAT for Youtubers!) http://share.epidemicsound.com/pf97L
Get your Food Ranger Merch Here, TAI HAO LE Merch here:
https://shop.bonfire.com/THEFOODRANGER/
My Gear for shooting these street food videos: https://www.amazon.com/shop/thefoodranger
Make sure to go subscribe to Cheddar's YouTube Channel here: http://bit.ly/CheddarSub
#ad

source