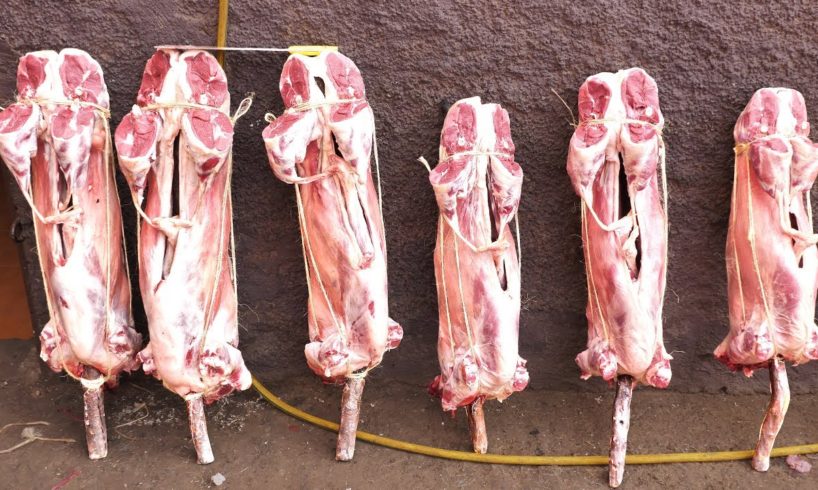 Check out https://ExpressVPN.com/thefoodranger for 3 months free w/ 1 year pack and 49% OFF! We found the CRAZIEST Whole Sheep POPSICLES in Morocco! Check out https://ExpressVPN.com/thefoodranger for 3 months free w/ 1 year pack and 49% OFF! Join us as we go for a FULL-ON Street Food Adventure in Marrakech, Morocco to try the BEST Street Food in Marrakech!
Today, we're going DEEP for some of the BEST street food in Marrakech, starting out bright and early for some EXTREME whole roast sheep AKA Royal Sheep AKA Sheep Popsicles. This is a classic Marrakech street food, the Méchoui, a whole roast baby sheep cooked underground in a big coal pit that is sealed with clay. We found the best place to eat it in Marrakech, where they have 6 ovens full of these baby sheep. They are served one by one to the hungry lineup of customers outside at the restaurant who either take it home to eat or who eat it street food style at the restaurant. This is definitely one of the most unique street foods in the world and super delicious to try on the streets of Marrakech!
If you're thinking of coming to Morocco to eat street food, you definitely have to come to Marrakech to eat this Mechoui AKA royal sheep. We found this at Ayachi grill on the outskirts of Marrakech.
After it's roast underground in the coal oven, its taken out and wrapped up in a plastic bag to let it steam and soften up. Then, it's chopped up and served on a plate with some bread, salt, and cumin. It's incredibly delicious!
After tasting that amazing Mechoui aka sheep POPSICLE, we kept going on the meat tour to get some BBQ beef kebabs right on the street. This is one of the best street foods in Marrakech, because it's served with this funky and strong butter that tastes like blue cheese.
This was found at bab taghzout. The BBQ is so smoky and it was fun to watch.
And to finish off our Marrakech street food adventure, we found another meat that was actually not my favourite. This was the stuffed spleen sandwich. It was full of beef and liver and had a funky offal aroma. We found it at Sidi Mimoun.
It was an AMAZING day in Marrakech, Morocco. We ate 3 delicious meats and it was all worth it! I hope you enjoy this travel vlog and the delicious street food that we found!
The Food Ranger YouTube:
► www.youtube.com/thefoodranger
The Food Ranger Instagram:
► www.instagram.com/thefoodranger
The Food Ranger FB:
► www.facebook.com/thefoodranger
MY GEAR AND RESOURCES:
► New Camera (AWESOME 4K) : https://amzn.to/2MnyBsg
► Main Lens: https://amzn.to/2MjnuAr
► Great Second Lens (FOR CLOSEUPS): https://amzn.to/2ntJvhG
► Favourite Telephoto: https://amzn.to/2vy3lwU
► Take everywhere cam: https://amzn.to/2P0b2Eb
► Action Cam (WATERPROOF) https://amzn.to/2Macjec
► Audio Setup (GREAT for clear voice): https://amzn.to/2MgzYJc
► Memory Card (for 4K footage): https://amzn.to/2OZrOTO
► Editing Computer (SUPER FAST): https://amzn.to/2M9nIuD
► Main External Hard Drive: https://amzn.to/2OXr4P3
► Main SSD Hard Drive: https://amzn.to/2OZOyTS
► How I Access The Internet ANYWHERE: https://amzn.to/2vv0TY3
► MUSIC I USE (Great For YouTubers): http://share.epidemicsound.com/pf97L
►BEST VPN FOR CHINA (ACCESS YOUTUBE):
http://bit.ly/AccessYouTubeinChina
► MERCH AVAILABLE HERE: https://shop.bonfire.com/thefoodranger/
Thanks so much for watching all of my Moroccan street food tour videos!
► AND THANKS SO MUCH TO TEMPORARYFOREVERS: check them out here:
https://temporaryforevers.com/
► My Food Blog: https://www.thefoodranger.com/

source