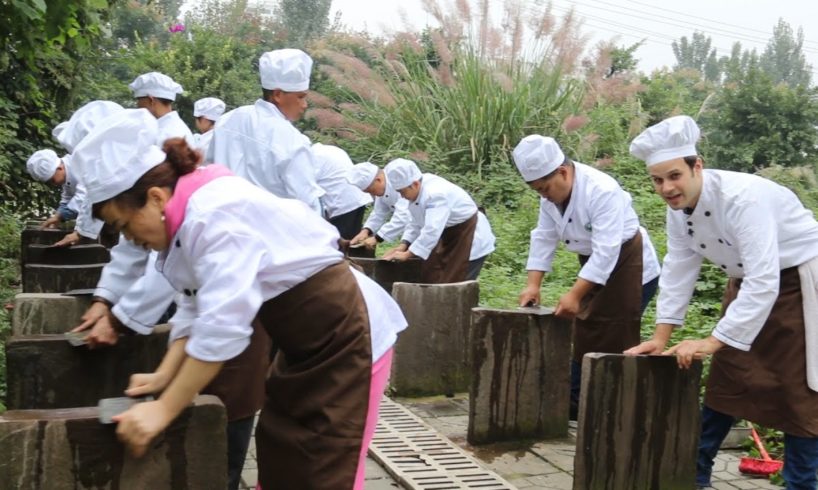 Check out https://ExpressVPN.com/thefoodranger for 3 months free w/ 1 year pack and 49% OFF! FOOD RANGER MERCH NOW AVAILABLE! http://bit.ly/FOODRANGER
Follow me on Insta: http://bit.ly/2c5ojch
And subscribe to my channel here: http://bit.ly/2cCy2ub
Going to culinary school in China is something I never thought I would do. But now I'm here, in Chengdu, Sichuan, at the Sichuan Higher Institue of Cuisine on a 2 year+ 1 year internship to being a Sichuan chef.
I just dropped out of my masters in international trade to come here. This is what I really want to do, and I'll be sharing journey of becoming a Sichuan cook with you. After living in Asia 3 years and being completely spoiled by the abundance of delicious and cheap street food in China, Malaysia, Thailand, Turkey, and India I've had no incentive to cook. It's so easy and fun to hit the street and eat new food all the time, so I honestly think in 3 years, I've cooked less than 10 meals for myself. As I explored the Shanghai food scene last month, It dawned on me as I was about to enter my 3rd semester at the economics school here in Sichuan that I was studying there for no reason, what I really wanted to do is continue to create content and resources for YOU, through videos and text. I was merely studying there because I thought it was a good backup plan if foodrangin' failed. But now I feel confident it won't. I realized that I'm really good at eating, decent at producing videos and planning them out, alright at describing flavours, but, I can't back it up with culinary skills. Over the last 2 years I've been bothered by this, until I recently watched the classic Julie and Julia and learned that even Julia Child herself couldn't cook an egg when she entered the cordon bleu in France. So here we go, I'm going full in. I'm 100% committed to this.
I'm going to learn to cook Sichuan cuisine, and it's all starting here. This is the beginning of my new journey. And I want you to follow along with me.
I had an insane first few days at school, and as you can see, my skills are not there, but I'm going to keep a positive mind through all the times I stumble and mess up and really do my best to learn and create some delicious food. Follow my instagram (thefoodranger) for updates of all these adventures, and I'm going to start keeping track of the recipes that we learn once I get settled in a little more. Leave me a commend down below letting me know what you thought guys, thanks a lot!
I'm still planning on doing my Chinese + Indian street food tour videos, alongside these vlogs of my journey through culinary school.
► MUSIC I USE (Great For YouTubers): http://share.epidemicsound.com/pf97L
►BEST VPN FOR CHINA (ACCESS YOUTUBE):
http://bit.ly/AccessYouTubeinChina
► MERCH AVAILABLE HERE: https://shop.bonfire.com/thefoodranger/
ABOUT THE FOOD RANGER
—————————————————————————————–
My name is Trevor James and I'm a hungry traveler and Mandarin learner that's currently living in Chengdu, Sichuan, China, eating up as much delicious .
I enjoy eating, tasting and documenting as many dishes as I can and I'm going to make videos for YOU along the way! Over the next few years, I'm going to travel around the world and document as much food as I can for you! I love delicious food! This channel will show you real Chinese food and real local food, not that stuff they serve in the Buzzfeed challenge.
Thanks for watching, and please feel free to leave a comment, suggestion, or critique in the comments below!
Please make sure to subscribe, it's the best way to keep my videos in your feed, and give me a thumbs up too if you liked this food video, thanks, I appreciate it! You could also share the video too if you liked it, that would be awesome.
—————————————————————————————–
Facebook: https://www.facebook.com/foodrangin
Twitter: https://twitter.com/FoodRanger
Insta: https://instagram.com/thefoodranger
/ chinese food chinese street food taste test gordon ramsay anthony bourdain best top cooking cuisine kitchen 2016 recipes
Love the music I use? Get a FREE month from me to you! I'm using this library for a few months now (since July 2017) and LOVE it. http://share.epidemicsound.com/pf97L
► My Food Blog: https://www.thefoodranger.com/

source