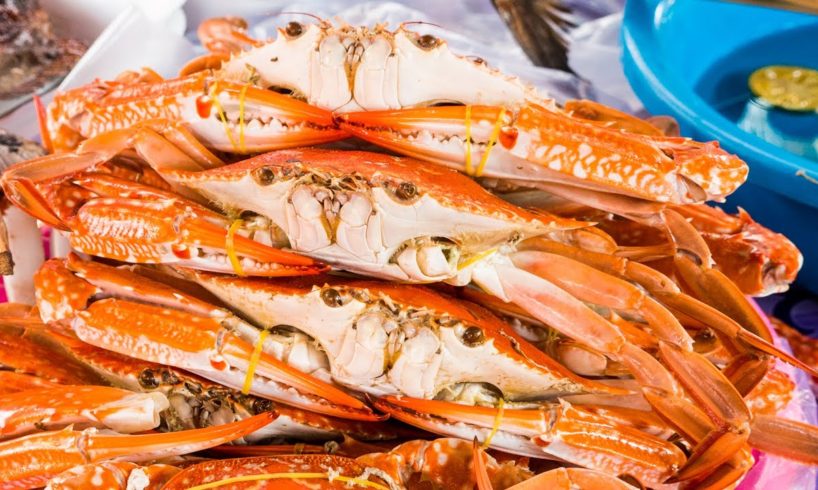 In Cambodia, this is where your crab dreams will come to life!
Subscribe for more videos► http://bit.ly/MarkWiensSubscribe
T-shirts for sale here► https://migrationology.com/store/
Located on the sleepy coast of Kep, Cambodia, you'll find one of the greatest crab markets in the world. The blue swimmer crabs are kept in ocean baskets, and when you got to buy them, they will actually fetch a basket right out for the ocean for you, and you can rummage through the live crabs and choose whichever ones you please. This is one of the most amazing markets I've ever been to!
Cambodia Crab Trip – Phnom Penh → Kep, Cambodia, 146 km., 3 hours
Kep Crab Market – One of the best reasons to travel to Kep, Cambodia is to eat seafood, and they have an abundance of fresh seafood. Although I didn't have time to stay the night in Kep, we decided to just take a day food trip to eat crab.
When you buy crab at the market, bargaining is expected, and the prices can fluctuate vastly. So keep this in mind when you're buying your crab. On this day I paid 2 kg. crabs – $14 USD. One of the best things about buying crab here is that you can then turn around and cook your crabs right there at the market. Price to cook crabs – $1 USD. It's an amazing experience of fresh crabs, boiled, and cooked right in the market.
They also have lots of other seafood. We bought 3 pretty decently sized fish, some rice, and a few bottles of sauce to complete our meal. 3 big fish, rice, sauce – $13 USD
You can then go to sit down at a drink vendor, and if you buy drinks, you can sit and eat your Cambodian seafood feast. Total price for drinks – 18,000 KHR ($4.34) *we had a lot of drinks, but I lost count.
If the seafood and crab at Kep crab market isn't enough, they have an abundance of durian and fruit at the market as well (it also happened to be durian season). 2 durians, 2 kg. mangosteen – $10 USD. Kampot, located next to Kep, is famous throughout Cambodia for durian, and it was an amazing durian.
Best pepper in the world!
Next, we drove over to Sothy's Pepper Farm, that's famous for growing Kampot pepper, what is considered the best pepper in the world. We tasted and learned a lot about pepper and it was a lot of fun. Pepper tour is free, but you can buy pepper
Roundtrip taxi price for full day – $130 USD
—
Music in this video: Cause I Am Coming Home https://goo.gl/HwVjdo
MY CAMERA GEAR:
Main camera: http://amzn.to/2dEL3hv
Main lens: http://amzn.to/2e5Lum6
2nd camera: http://amzn.to/2mczuDx
2nd lens: http://amzn.to/2mcEGau
Microphone: http://amzn.to/2dEr9Z9
Gorillapod: http://amzn.to/2epFsQx
*These are Amazon affiliate links
I would love to connect with you!
Instagram: https://instagram.com/migrationology
Facebook: https://www.facebook.com/migrationology
T-shirts available now: https://migrationology.com/store/
—
►Subscribe to my channel for more videos: http://bit.ly/MarkWiensSubscribe

source