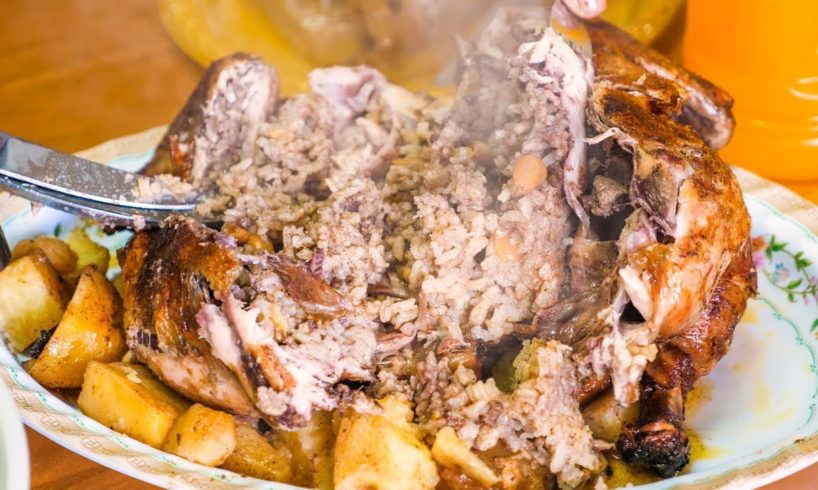 ►Check out http://visitpalestine.ps/
►Subscribe – http://bit.ly/MarkWiensSubscribe
►T-shirts – https://migrationology.com/store/
Before beginning, I want to make it clear I paid for this tour and decided to go on it myself. It is not sponsored in anyway. However, after spending time with Osama and seeing the tours and great people that are involved with http://visitpalestine.ps/ I would highly recommend it.
I had really wanted to visit Bethlehem, and we decided to book a tour to also visit Hebron, another one of the most religiously significant cities in the West Bank, Palestine. So we drove through the checkpoint and I could hardly believe I was in Bethlehem, the birthplace of Jesus.
After meeting up with Osama, who is an absolutely awesome guy, we started walking off through the Old City of Bethlehem. First stop was a place to get a nice view overlooking the city. Absolutely stunning and to think of the immense and important history was mind blowing. Manakish or manaeesh is an Arabic baked flatbread, sometimes covered in za'atar before being baked. We stopped at an breadshop to have a piece before heading on to the church.
Church of the Nativity
NOTE: Thanks to baby Micah, we were allowed to enter a side entrance to the Grotto with no queue, which saved a lot of time, sometimes you have to wait for an hour to get entrance because it's very small.
Being a Christian, this was an experience that was almost surreal and extraordinarily special for me. I will cherish that entire moment in the Grotto, a place that marks the spot where Jesus was born and where he was laid in a manger.
Walled off hotel – We then took a drive over to the Walled Off Hotel, a hotel that faces the separation wall. It was eye-opening to learn more about the situation.
Palestinian food home cooked – There's no better way to eat when you travel than to have home cooked food. And so through the arrangement of Visit Palestine, we were invited to a Palestinian family home to eat an Arabic food feast that included chicken stuffed with rice and meat all baked in oven safe bags (I think). The chicken and the spices were amazing, and additionally the side dishes, including the freshly roasted almonds were the best I've ever had. Also, the hospitality and generosity of this family in Bethlehem truly made it memorable. It was an honor to enjoy Palestinian food in Bethlehem with a local family.
Hebron Old City – We continued on to Hebron, a city about 30 minutes from Bethlehem. Again it was a fascinating and eye-opening ride. Hebron is a city known for its conflict.
Ibrahimi Mosque (also known as Cave of the Patriarchs) – At the Ibrahimi mosque you can pay respect to the tombs of Abraham, Isaac, Sarah, and Leah. Again, it's pretty surreal to visit, and it a truly special moment.
Fresh juice – 5 ILS ($1.40) – We then walked around the streets of Old City Hebron, which to be honest is a little scary and unfortunately filled with tension. Even though it's so beautiful and so ancient, it's eerie.
It was a fascinating experience to visit Palestine, eye-opening as well. But the combination of generous people I met, delicous Palestinian food at a family home, and seeing in person the place where Jesus was born and where Abraham's tomb sits, all added up to be one of the most special and emotional days I've ever had in my life.
Just as a note of reference: I paid $500 USD for the tour with http://visitpalestine.ps/, but they provide transportation for me and my family from Tel Aviv, and it included everything private. I also needed a private tour to be able to make a video like this. Thank you to Osama for being so cool!
–
MUSIC in This Video: A New Decade, Always Raining – https://goo.gl/HwVjdo
CAMERA GEAR used to make this video (these are affiliate links):
GH5: http://amzn.to/2sV0XQO
Main lens: http://amzn.to/2szLZNf
2nd lens: http://amzn.to/2mcEGau
Microphone: http://amzn.to/2rBKD3z
Tripod: http://amzn.to/2rBFkkI
I would love to connect with you!
Instagram: https://instagram.com/migrationology
Facebook: https://www.facebook.com/migrationology
T-shirts available now: https://migrationology.com/store/
Thank you for watching!

source