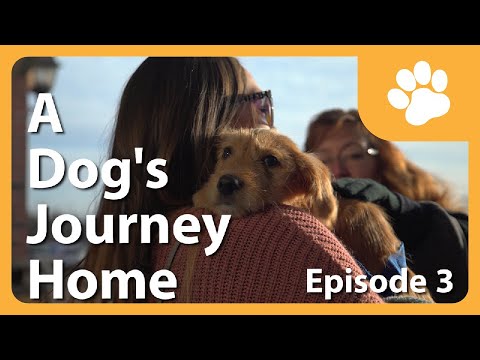 It's a given that adopting a dog from a shelter is a roll of the dice. There is typically little information about what that animal has been through and for how long, and the best you can do when you visit is take in what you see, hear, and feel and make your decision.
Now imagine if all you have to go on is a Facebook picture and post and 90 seconds of Youtube video. This is the challenge the TracysDogs team takes on every day. Since there are never enough adopters in their local San Antonio, Texas area to adopt all the dogs that flow into the shelters, every month this organization uses social media to showcase the animals they have rescued in the hope they will somehow connect to a loving family, somewhere, across the country.
A long shot, yes, but somehow, every month, co-founder Scott Whyatt takes a van loaded with anywhere from 40 to 60 dogs and sets out on a road trip to bring these formerly homeless animals to new families who have gone through a rigorous review process to adopt them, despite never having seen the dog they are adopting in person.
The fact this process has gone on every month for several years is a testament to the skill and dedication of the Tracy'sDogs team. After co-founder Tracy Voss-Whyatt selects the dogs from the shelter, many with mange, ticks or any number of other ailments from abuse, they are brought to the TracysDogs compound for several weeks of treatment and loving care. As the dogs recover, a multi-step matching effort is undertaken to find that perfect home for each and every dog.
In this episode of "A Dog's Journey Home", the final stage of this drama plays out. Scott and his team drive 1,650 miles to Buffalo, New York where excited new adopters wait anxiously to meet their new family members for the very first time. These long-awaited reunions are the culmination of weeks of effort and make it all the worthwhile.
Being on the road and making these connections is the favorite part of the job for Scott. "I'm glad we're the people who are able to bring the dogs to them," he reflects. "It's the best part of what we do is meeting people and making them happy, and I think we saw a lot of happy faces."
Watch as Homer, Ginny, Hardy and the other pups get a fresh start in their new forever homes.
To learn more about TracysDogs, visit them at: https://www.tracysdogs.com/
Also, follow them on Facebook at: https://www.facebook.com/TracysDogs/
For more OnlyGood TV Amazing Animals and Rescue videos, visit at: https://www.youtube.com/playlist?list=PLLFDeKQixuZelWB4D0UFekAgdXOIW42Qt
Welcome to OnlyGood.tv! (Formerly HooplaHa – Only Good News) – It's a Positivity Movement.
We at OnlyGood TV believe that positivity will change lives for the better. We strive to be the hopeful voice that recognizes people are good & out there doing good things for their communities and society at large. We tell the stories of the individuals and organizations that inspire and motivate us, and fuel the Positivity Movement.
Watch an exclusive collection of stories featuring PETS, FAMILY, WELLNESS, and COMMUNITY, including unique series and Live Specials that shine a spotlight on everyday people, making the world a better place. #OGTV
Visit us at: https://www.onlygood.tv/
Like us on OGTV's Facebook Page: http://www.facebook.com/onlygood.tv
Like us on Hooplaha's Facebook Page: https://www.facebook.com/hooplaha/
Follow us on Instagram: https://www.instagram.com/onlygood.tv/
Follow us on Twitter: https://twitter.com/onlygoodtv

source