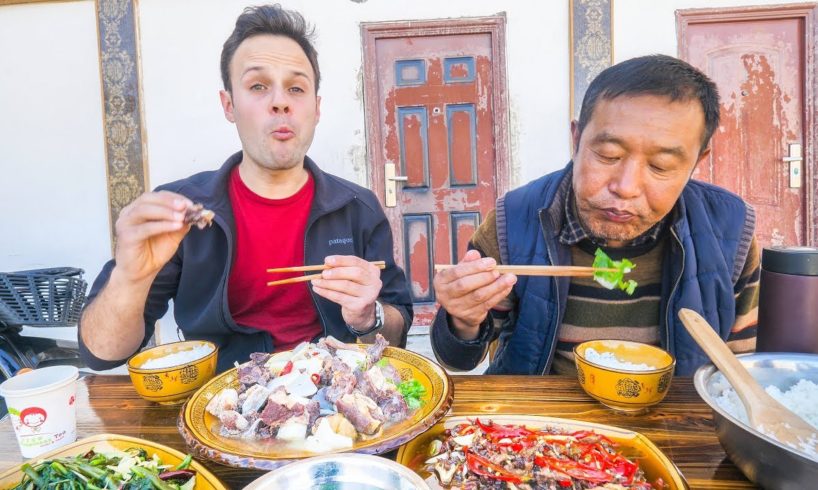 Check out https://ExpressVPN.com/thefoodranger for 3 months free w/ 1 year pack and 49% OFF! FOOD RANGER MERCH NOW AVAILABLE! http://bit.ly/FOODRANGER
Street Food – Chinese Street Food – Street Food in China
In this Chinese Tibetan Street Food Tour video in DEEP Rural Sichuan, we travel from Kangding to visit one of the highest cities in the world, Litang. We found some amazing Sichuan style Tibetan street food along the way. We start out by visiting a local street food noodle joint and then traveled along the 318 highway that goes all the way from Shanghai to Tibet. We stopped in a small village along the way to enjoy some Sichuan style Tibetan street food and then kept moving on our street food tour to Litang.
We are traveling in China on a 6 week street food journey through Sichuan and Yunnan, in search of the best street food and to discover unknown street food and chat with friendly locals. This is all part of the classic tea horse road.
MY GEAR AND RESOURCES + MERCH
► New Camera (AWESOME 4K) : https://amzn.to/2MnyBsg
► Main Lens: https://amzn.to/2MjnuAr
► Great Second Lens (FOR CLOSEUPS): https://amzn.to/2ntJvhG
► Favourite Telephoto: https://amzn.to/2vy3lwU
► Take everywhere cam: https://amzn.to/2P0b2Eb
► Action Cam (WATERPROOF) https://amzn.to/2Macjec
► Audio Setup (GREAT for clear voice): https://amzn.to/2MgzYJc
► Memory Card (for 4K footage): https://amzn.to/2OZrOTO
► Editing Computer (SUPER FAST): https://amzn.to/2M9nIuD
► Main External Hard Drive: https://amzn.to/2OXr4P3
► Main SSD Hard Drive: https://amzn.to/2OZOyTS
► How I Access The Internet ANYWHERE: https://amzn.to/2vv0TY3
► MUSIC I USE (Great For YouTubers): http://share.epidemicsound.com/pf97L
►BEST VPN FOR CHINA (ACCESS YOUTUBE):
http://bit.ly/AccessYouTubeinChina
► MERCH AVAILABLE HERE: https://shop.bonfire.com/thefoodranger/
On our journey from Kangding to Litang, we hired a local Tibetan driver to take us there and bring us to eat some local street food along the way. He brought us to his friends restaurant, which was kind of like a mixture between a Chinese restaurant and a Tibetan restaurant. It was really nice and the food was delicious. His recipes definitely had some Sichuan influence but also a Tibetan flavour because of all the delicious yak meat!
If you're traveling to China as a tourist and are looking to eat the best street food around the world, you must visit Sichuan and in particular, the western part of Sichuan with the Tibetan influence. It really is an amazing place with a lot of beautiful food to try. There really is too much food to try in this part of China!
Chinese cuisine and Chinese street food is so abundant and diverse that you could travel through China for a lifetime and still not eat all of the delicious Chinese recipes. So the best thing you can do is just arrive with an open mind and a strong appetite and you won't be let down!
The addresses of the locations in the video are:
1) Breakfast (Amazing Sichuan Style YAK NOODLES):麻哥面:四川省康定市沿河西路60号麻哥面
2) Lunch, along the 318 highway in Sichuan in Xinduqiao village: 午饭:四川省新都桥318国道旁杨三哥饭店民居
3) Dinner, in Litang, one of the highest towns in the world:
晚饭:四川省理塘县幸福东路300号藏家人特餐
ABOUT THE FOOD RANGER
—————————————————————————————–
My name is Trevor James and I'm a hungry traveler and Mandarin learner that's currently living in Chengdu, Szechuan, China, eating up as much delicious .
I enjoy tasting and documenting as many dishes as I can and I'm going to make videos for YOU along the way! Over the next few years, I'm going to travel around the world and document as much food as I can for you! I love delicious food! This channel will show you real Chinese food and real local food, not that stuff they serve in the Buzzfeed challenge.
Thanks for watching, and please feel free to leave a comment, suggestion, or critique in the comments below!
Please make sure to subscribe, it's the best way to keep my videos in your feed, and give me a thumbs up too if you liked this food video, thanks, I appreciate it! You could also share the video too if you liked it, that would be awesome.
—————————————————————————————–
Facebook: https://www.facebook.com/thefoodranger
Twitter: https://twitter.com/FoodRanger
Insta: https://instagram.com/thefoodranger
► My Food Blog: https://www.thefoodranger.com/

source