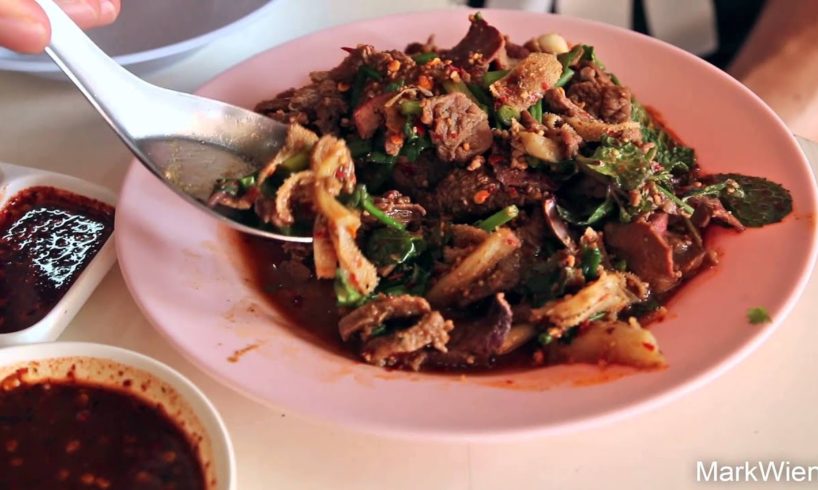 Laab Nuad (ร้านลาบหนวด) is a restaurant in Udon Thani that specializes in Thai beef dishes. Get more details here: http://www.eatingthaifood.com/2015/01/beef-restaurant-udon-thani/
When I was in Udon Thani (อุดรธานี), I had a chance to eat at a restaurant called Laab Nuad (ร้านลาบหนวด), a place that serves a menu of mostly beef dishes… although they did have a new pork item on their menu – but almost everything was all dedicated to Thai beef dishes. The owner is kind of serious guy, but at the same time he was very nice, and as soon as I arrived, I could just tell how serious he was about cooking food, and his passion for especially cooking beef.
But before trying all the beef dishes, I first had to try a dish called puang nom moo (พวงนมหมู), literally pig breasts, which were grilled up to perfection, and served with a duo of wonderful house-made sauces. The pig breasts were cut thin, and I thought they would be very oily and fatty, but they were not all that fatty, just a nice marbling of the meat. The pork turned out to be extremely good, tender, with a noticeable pork flavor – maybe a bit stronger than normal cuts of pork. The dark colored sauce was an absolute game changer – it was bitter from bile, and had a kick of roasted chili and it was salty from fish sauce.
Moving onto the Thai beef dishes, we had a dish called tom haeng luak jim (ต้มแห้งลวกจิ้ม), a simple dish of beef boiled with lemongrass and Thai herbs. Our plate of tom haeng luak jim (ต้มแห้งลวกจิ้ม), included all sorts of pieces of cow, from the rumen to the intestines, which were tied into little knots and served. The boiled beef was again served with the same glorious sauces, and to me, it was all about the sauce. Moving on, probably my favorite dish of the meal at Laab Nuad (ร้านลาบหนวด) in Udon Thani was the koi khua neua (ก้อยคั่วเนื้อ), a dish that's similar to laab, but a bit different. Normally koi (ก้อย) is supposed to be raw, but I chose to order it cooked, so it was just lightly cooked. The beef was mixed with lots of toasted sticky rice powder, chili flakes, fish sauce, lime juice, and some herbs to enhance it. The flavor was incredible, and the meat was tender and tasty. We also had a plate of laab khalang (ลาบขาลัง), a type of Isaan style laab which included half cooked beef in similar spices and seasoning as the dish above. Again, it was awesome.
Another famous dish to eat at Laab Nuad (ร้านลาบหนวด) is tom saeb neua buay (ต้มแซ่บเนื้อเปื่อย), an Isaan style beef soup. The soup was wonderful, not as sour as other versions I've had, but rich from beef broth, and spiced nicely with a hint of cinnamon. The beef had been boiled for hours, so it was fall apart tender.
Laab Nuad (ร้านลาบหนวด) is one of my favorite restaurants in Udon Thani, and if you love beef, this is a restaurant you'll want to check out when you're there.
Address: 35/1 Thanon Chomchuen, Mak Khaeng, Udon Thani, Thailand 41000
Phone: 042 328 172
Open hours: 8 am – 3 pm, except closed Sunday
Prices: Every dish is 70 Thai Baht
ที่อยู่ ถนนศรีชมชื่น (อยู่ติดมัสญิด) หมากแข้ง , เมืองอุดรธานี , อุดรธานี 41000
โทร. 042-328-172
เปิด จันทร์ – เสาร์ 8.00 – 15.00 น.
Music in this video is courtesty of audionetwork.com
Mark Wiens and Ying Wiens: http://migrationology.com/blog & http://www.eatingthaifood.com/blog/
► Get my food travel newsletter (it's free): http://migrationology.com/food-news/
►Subscribe for more delicious food videos: http://www.youtube.com/subscription_center?add_user=migrationology
Thank you for watching, please remember to give this video a thumbs up, and subscribe if you're not already. Thank you in advance.
– Mark

source