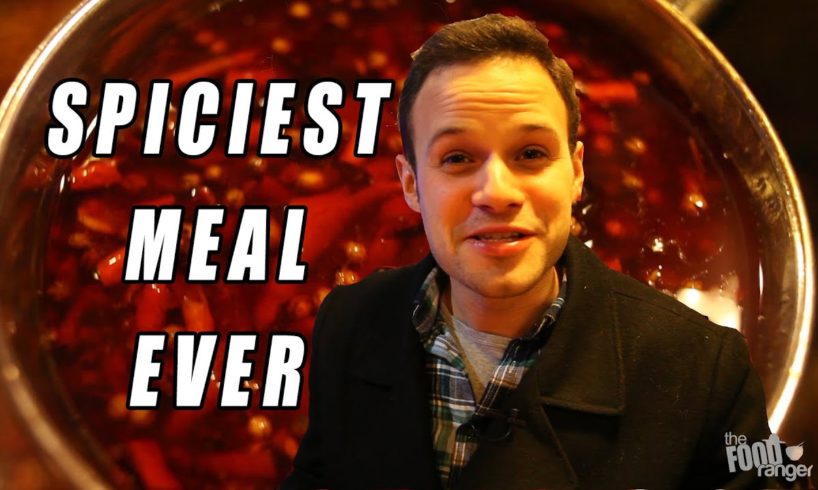 Check out https://ExpressVPN.com/thefoodranger for 3 months free w/ 1 year pack and 49% OFF!
FOOD RANGER MERCH NOW AVAILABLE! http://bit.ly/FOODRANGER
Follow me on Insta: http://bit.ly/2c5ojch
And subscribe to my channel here: http://bit.ly/2cCy2ub
In Szechuan, the food is spicy, but I didn't know it could be this spicy. I had a famous Szechuan meal called Chuanchuanxiang, along with some other local delicacies, that made me unable to sleep that night. Please like : https://www.facebook.com/Foodrangin
This spicy meal was recommended to me by a local friend in Chengdu, who also loves spicy food. You choose your vegetable and meat skewers from the fridge and then give them to the server and they boil them for you in their spicy oil and serve them to you in a bowl half full of oil as well. You dip the skewers in a spice mix and WOW this was hot. REALLY HOT. EXTREMELY HOT.
To be honest, I'm wasn't a huge fan of the other spicy foods they served here like pig brain, rabbit kidney, and rabbit head, but when in Rome…
So I tried it all and must say that they were all so-so, except for the pig brain which I didn't like. My local friend loved it all, but also admitted that it was just a little too spicy for him, although he did mention that next time he will bring me to an even spicier place!!
There was some amazing sugarcane juice from a stall outside of the restaurant which made a perfect dessert after that spicy meal and really helped cool me down.
———————————————————————————————
RESTAURANT NAME AND ADDRESS:
Name : 恒侯巷串串香 (Héng hóu xiàng chuànchuànxiāng)
Address: 地 址:成都星辰东一路10幢5号 (Chengdu xīngchén dōng yīlù 10 chuáng 5 hào)
Telephone: 电 话:028-87604579
——————————————————————————————–
MY GEAR AND RESOURCES + MERCH
► New Camera (AWESOME 4K) : https://amzn.to/2MnyBsg
► Main Lens: https://amzn.to/2MjnuAr
► Great Second Lens (FOR CLOSEUPS): https://amzn.to/2ntJvhG
► Favourite Telephoto: https://amzn.to/2vy3lwU
► Take everywhere cam: https://amzn.to/2P0b2Eb
► Action Cam (WATERPROOF) https://amzn.to/2Macjec
► Audio Setup (GREAT for clear voice): https://amzn.to/2MgzYJc
► Memory Card (for 4K footage): https://amzn.to/2OZrOTO
► Editing Computer (SUPER FAST): https://amzn.to/2M9nIuD
► Main External Hard Drive: https://amzn.to/2OXr4P3
► Main SSD Hard Drive: https://amzn.to/2OZOyTS
► How I Access The Internet ANYWHERE: https://amzn.to/2vv0TY3
► MUSIC I USE (Great For YouTubers): http://share.epidemicsound.com/pf97L
►BEST VPN FOR CHINA (ACCESS YOUTUBE):
http://bit.ly/AccessYouTubeinChina
► MERCH AVAILABLE HERE: https://shop.bonfire.com/thefoodranger/
ABOUT THE FOOD RANGER
———————————————————————————————
My name is Trevor James and I'm a hungry traveler and Mandarin learner that's currently living in Chengdu, Szechuan, China, eating up as much delicious food as I can.
I enjoy tasting and documenting as many dishes as I can and I'm going to make videos for YOU along the way! Over the next few years, I'm going to travel around the world and document as much food as I can for you!
Thanks for watching, and please feel free to leave a comment, suggestion, or critique in the comments below!
Please make sure to subscribe, it's the best way to keep my videos in your feed, and give me a thumbs up too if you liked this food video, thanks, I appreciate it!
———————————————————————————————
Facebook: https://www.facebook.com/Foodrangin
Twitter: https://twitter.com/FoodRanger
———————————————————————————————
Love the music I use? Get a FREE month from me to you! I'm using this library for a few months now (since July 2017) and LOVE it. http://share.epidemicsound.com/pf97L
► My Food Blog: https://www.thefoodranger.com/

source