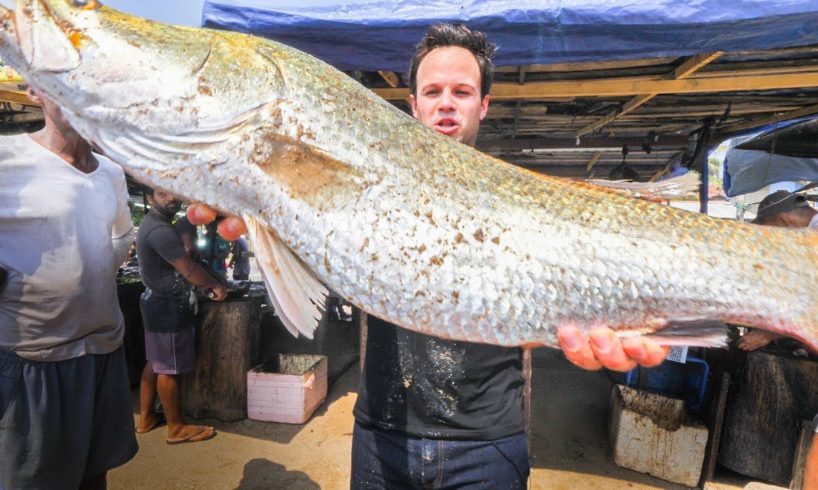 WOWWW!! We found INSANE Seafood in Sri Lanka! Check out https://ExpressVPN.com/thefoodranger for 3 months free w/ 1 year pack and 49% OFF! This MASSIVE Seafood Fish Market and home cooked FISH CURRY was HEAVEN! Sri Lanka has some AMAZING Seafood, and today, we're bringing YOU to the local fish market to pull in a HEAVY net of Sri Lankan seafood and bring it to our local friends home for a HUGE Home Cooked FEAST!
Make sure to follow along behind the scenes ►https://www.instagram.com/thefoodranger
And make sure to subscribe to Ruzaina's channel here:
►https://www.youtube.com/channel/UCDPfZmaXpxEXNCctdSyrN1A
In Southern Sri Lanka, in Galle, we're bringing you to the local fish market and street food area to pull in a HUGE fishing net with the local fishermen. We're showing you how catching fish is done every day for the local fishermen and seafood vendors here in Galle, and also showing you the fish cutting!
Sri Lanka has some of the BEST Street Food in the world! Today, we're buying a MASSIVE fish from the fish market in Galle, Sri Lanka, and then bringing it to the fish cutting station to chop up into massive steak like chunks and bring to our local friends home to cook into a CREAMY and slightly SPICY fish CURRY! The fish curry is prepared 2 ways, the first is the body and is in a mustardy and slightly sour and peppery broth, and the second way is a fish head curry that is quite creamy with home made coconut milk.
When we brought this fish from the fish market, many of the other SPICY and flavourful Sri Lankan home cooked curries were already prepared, so we watched the final preparation of these homemade Sri Lankan recipes in the traditional Sri Lankan kitchen. The pots were all made of clay and the fire was made with Sri Lankan Ceylon cinnamon!
There were quite a few fish in the net when we pulled it in at this local fish market in Galle. The famous fish are the pariah fish and the big "malet" fish as the locals called it. All of these fish can either be cooked up Sri Lankan style or also BBQ on one of the many restaurants found on the street side in Galle.
This is the fifth street food video from Sri Lanka. We've filmed some amazing Sri Lankan seafood videos, like a Sri Lankan mud crab tour:
►Sri Lankan Mud Crab Tour: https://youtu.be/UTJ3t4KGntw
We've also brought you to one of the BEST Seafood Restaurants in Colombo and for a full on street food tour of Colombo:
► Enter the Ministry of Crab in Colombo: https://youtu.be/wrEwAopCBqo
and we've also brought you for some other delicious home cooked Sri Lankan food:
►Home Cooked Sri Lankan food:

►Make sure to Subscribe to The Food Ranger here: http://bit.ly/2cCy2ub
For detailed addresses to these Sri Lankan restaurants, visit The Food Ranger blog:
► https://www.thefoodranger.com/
► BRAND NEW Chili Oil 4 Life Merch here: https://www.thefoodranger.com/Chilioil4life
The Food Ranger YouTube:
► www.youtube.com/thefoodranger
The Food Ranger Instagram:
► www.instagram.com/thefoodranger
The Food Ranger FB:
► www.facebook.com/thefoodranger
► MUSIC I USE (Great For YouTubers): http://share.epidemicsound.com/pf97L
►BEST VPN FOR CHINA (ACCESS YOUTUBE):
http://bit.ly/AccessYouTubeinChina
► MERCH AVAILABLE HERE: https://shop.bonfire.com/thefoodranger/
We're going for more street food around the world!

source