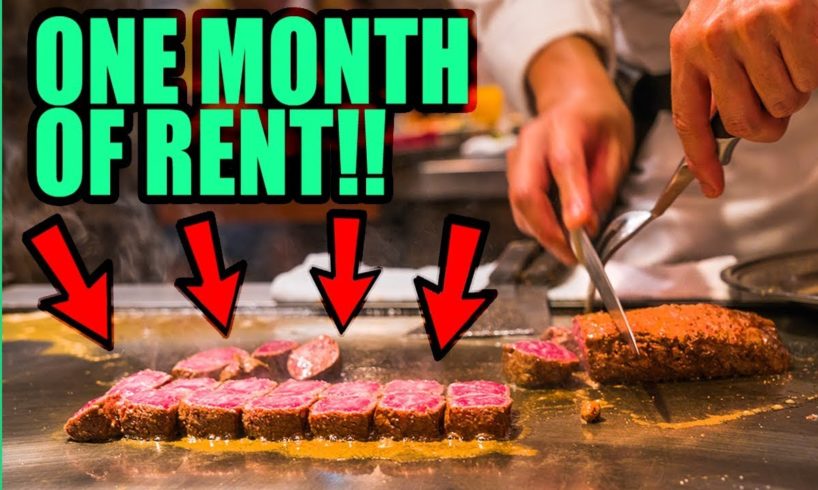 ?HUGE SHARK HEART IN JAPAN! » https://youtu.be/9bRhbD_JuN4
??GO ON YOUR OWN FOOD TOUR WITH TOKYO BY FOOD! » http://bit.ly/TokyoByFood
?SUPPORT OUR MISSION » http://bit.ly/BestEverPatreon
?Learn more about Onetrip's Vietnam tours » http://bit.ly/BEFRSOnetrip
Special thanks to Shizzy for joining us on this epic wagyu tour. Follow her for more Tokyo insights @xshizzyx. And thanks to Tokyo By Food for organizing our tour of Tokyo's best beef: bit.ly/TokyoByFood
– – – – – – – – – – – – – – – – –
» THE WAGYU BEEF
1. MI-TOBARUNIKUTARASHI (MEAT BAR NIKUTARASHI): Raw Beef + $500 Beef BBQ
ADDRESS: 1-34-3 Yoyogi Shibuya-ku, Tokyo 17th Kikuchi Building 1F
OPEN: 5:30PM – 11:30PM
Japan is famous for their wagyu beef, with the different types of beef ranging from A1 (lowest grade) to A5 (highest grade). The restaurant we visited today specializes in A5 wagyu beef yakiniku (grilled at the table). They update their menu daily and are locally renowned as serving some of the tastiest beef in Japan.
?VARIETY OF BEEF: We sampled Hokkaido beef, which head chef and owner Mr. Hirashima prepared for us; wagyu sashimi, a special off-menu delicacy; and 5 varieties of wagyu including: Zabuton (Chuck Flap), Beef Tongue, Sankaku Bara (Chuck Short Rib), Kamenokou (Knuckle) and Misuji (Top Blade), all served with side sauces of soy sauce, lomon and a special apple sauce.
?PRICE: Wagyu Sashimi 18.22 USD/2,000 JPY | 5 Varieties Wagyu Beef 36.26 USD/3,980 JPY
—-
2. RUYURIYA: Sukiyaki + Shabu Shabu
ADDRESS: 5-18 Maruyama-machi, Shibuya-ku, Tokyo 2 Sogezaka Square Building 2F
OPEN: Mon – Fri: 12PM – 3PM | 6PM – 11PM
Sat: 12PM – 3PM | 5PM – 11PM
Sun: Closed
Ruyuriya has been a staple in Japan for 13 years, famous for their 101 different varieties of hotpot.
?SUKIYAKI: There are two ways to eat sukiyaki →
1. Dipping Sukiyaki: First lite the stove with the pan on it, placing the beef fat in the hot pan and continuing to move it around. Remove the beef fat and add tiny sugar cubes. Then pour in the mixture of soy sauce, cooking alcohol and sugar, mixing everything together. Poach the beef in the pan, allowing it to absorb the sauce. Finally, dip the beef into a raw egg and then eat!
2. Sukiyaki Hotpot: Begin by pouring in the mixture of soy sauce soup, then add sugar, onion, leaks, tofu, radish, konnyaku (konjac jelly), scallion, shitaki mushroom, enoki mushroom, tungho and wagyu beef. Mix it all together and enjoy!
?SHABU SHABU: This beef dish comes from Matsusaka, Japan, a region known for their high-quality beef that has a high fat-to-meat ratio. Typically, this meat is served with sides of soy sauce and vinegar or sashimi sauce. The beef is often poached in boiled water for 5-10 seconds before being dipped into the sauce and eaten.
?PRICE: Sukiyaki 45.55 USD/5,000 JPY | Shabu Shabu 45.55 USD/5,000 JPY per person
—-
3. WAKAKAISEKIYAMATOKAN (TOKYO GINZA): Teppanyaki (Wagyu Steak)
ADDRESS: 1-2-2 Uchisaiwaicho Chiyoda Tokyo
OPEN: Mon – Fri: 11:30AM – 2PM | 5:30PM – 10PM
Sat: 11:30AM – 8PM
Sun + Holidays: Closed
Wakakaisekiyamatokan has been serving some of the finest beef in Tokyo for 27 years. They are famous for their private space, where guests have a private room with a private chef preparing their food right in front of them.
?This restaurant offers three mains kinds of wagyu beef: Kitasasuma beef from Kagoshima, Hida beef from Gifu and Yonezawa beef from Yamagata. They also offer Washoku, traditional foods of Japan, typically including rice, miso soup and seasonal side dishes.
?PRICE: Varies
– – – – – – – – – – – – – – – – –
?COME SAY HI:
INSTAGRAM » http://bit.ly/InstaSonnySide
FACEBOOK » http://bit.ly/BEFRSFacebook
?SUPPORT OUR MISSION:
Patreon is a platform that allows people to support creators on a recurring basis. Your contribution is an investment in the creative freedom of my channel and enables me to keep my content authentic and uninterrupted. Your generous donation allows me the time and resources to create more videos for you. We also have some pretty sweet rewards, exclusive to Patreon Bestys. » http://bit.ly/BestEverPatreon
Don't forget to subscribe to Best Ever Food Review Show, so we can connect through food and travel and become Bestys!
– – – – – – – – – – – – – – – – –
?CREDITS:
DIRECTOR OF PHOTOGRAPHY » Bret Hamilton
CAMERA OPERATOR » Nguyễn Tân Khải
VIDEO EDITOR » Lê Anh Đỗ
COLOR & MASTER » Dương Quốc Huy
PRODUCER » Huỳnh Hà My
For business inquiries, please email: team.befrs@gmail.com

source