Welcome back to the Wednesday Bear series. Hertha is keeping herself entertained with the hose. Hertha was...
OMG! TOP 100 Dogs 🐶 And Cats 😻 Can Speak English – Pets Language | Pets Paws...
Welcome to People Are Awesome Presents, where our incredible community of talent put their top skills on...
The Top 5 Shiny FAILS for our Shiny Montage Countdown! Epic Shiny Fails in Pokemon Sword and...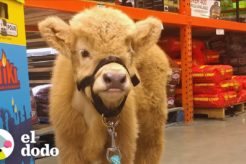 Este torito peludo sigue a su mamá a todas partes. ¡Si amas a los animales, suscríbete a...
Top 11 Craziest Animal Fights Caught On Camera Featuring: Lion vs Giraffe Snake vs Mongoose Tiger vs...
Buy Delta Empire's debut album 'Vanquish' here: https://amzn.to/2ncali5 SUBSCRIBE for new Delta Empire videos every Thursday. Hire...